Honda CR-V vs rivals
The all-new Honda CR-V faces a wave of brilliant SUVs, so can it hold its own? We test it against its rivals from Mazda and Hyundai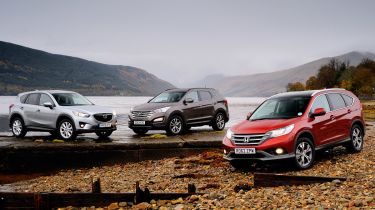 Evolution is the only way to survive in the wild, so the new Honda CR-V has been refined rather than overhauled for its fourth generation. The off-roader market has expanded significantly since the last CR-V arrived in 2007, with a host of new rivals hitting showrooms. But with five million global SUV sales, Honda has real 4x4 pedigree.
This new model is more practical than ever. Engine and gearbox tweaks bring useful efficiency gains, while new kit makes the CR-V feel the equal of its modern rivals. The predicted best seller is the four-wheel-drive, 2.2-litre diesel in top-of-the-range EX trim, which we test here.
Facing the Honda is the new Hyundai Santa Fe. It cruised to victory over seven-seat rivals in our previous test, so how will it fare against smaller opposition like the Mazda CX-5? Our current class leader won its place at the top thanks to brilliant SkyActiv fuel-saving technology and agile handling. The flagship auto model will be tough to beat in this test.
Verdict
Each of these cars brings something different to the table, and some buyers will prefer the huge practicality of the CR-V over the dynamic flair of the Mazda or off-road ability of the Hyundai. Yet in the final reckoning, it was the model with the greatest range of talents that took top spot.
The Mazda CX-5 is not only the best car to drive in this test, it's also the cheapest and most efficient. And it appeals to the heart and the head with its sharp styling and low running costs.
Choosing between the Santa Fe and CR-V was harder, although the more affordable Hyundai edges second place with its five-year warranty and powerful engine. A locking diff and hill descent control ensure it's the best off-road choice, too.
So the Honda finishes last in this test, despite having some superbly thought-out, practical touches in its smart interior. In the end, its relatively high price is difficult to justify.