Watchdog: Spare car keys
When our reader realised the spare key to his car didn't work, his dealer confessed it had given him the wrong one...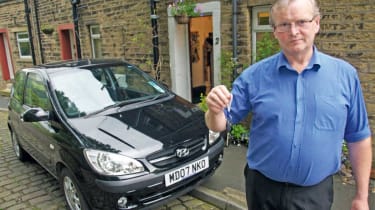 Nearly all new cars come with two keys: a master and a spare. But what happens if you realise the extra key doesn't work? That's what happened to Paul Bateson, from Halifax, West Yorkshire. And unfortunately for Paul, it wasn't until four years after taking delivery of his new Hyundai Getz that he noticed the spare was for someone else's car.
"When I got the Getz I simply put the spare key in my home safe," he told us. "The car was due for a service so I decided to give the spare to the garage to use – but I realised it was a completely different key and didn't fit."
Paul went back to the dealer that sold him the car to try to get the correct key. He claims he was told his correct one couldn't be found and that it had probably been thrown away after so long.
The dealer did offer him a new key, but only if he paid £172. This was dropped to £127 with 'free' encoding after he complained, even though the showroom admitted there'd been an error.
Industry body Motor Codes told us that while the dealer is not legally obliged to provide two keys, as this was part of the sale this is what Paul should have got. But the four-year gap does complicate things.
A spokeswoman for Motor Codes said: "We advise buyers to check everything is correct before they leave the forecourt, or within a reasonable timescale."
This was echoed by Hyundai when we called to complain. Its spokeswoman told us that if Paul had noticed the problem sooner, it would've been able to help. "The customer, as well as the dealer, has the responsibility to check that both keys work on handover," she said. "In this instance, it appears that neither checked."
Paul acknowledged this, but explained: "I just put the key away for safe keeping; I never expected it to be the wrong one."
Although Hyundai couldn't prove whether Paul's key was the one originally issued, it told Auto Express it would pay for a new key, because the dealer had admitted its mistake.
Paul's case: At a glance
The problemPaul was given the wrong spare key for his new Getz. He didn't notice until four years later – and was told he'd have to cover all the costs for a new one.
Hyundai's responseAfter initially wanting Paul to pay for a new key, even after admitting the mistake, Hyundai eventually decided to cover the cost of a replacement.
Legal adviceAs two sets of keys were part of the car's sale, Paul should have been given the correct ones. The time passed makes things harder and buyers should check everything is working and correct before leaving the dealership.
Our verdictHyundai admitted it gave Paul the wrong key, so should have paid up straight away despite the four-year gap. But new car buyers should always check things like spare keys are working immediately.
Do you have a motoring problem that needs investigating? We're here to help… E-mail mail@autoexpress.co.uk or Tweet us @AutoExpress.