Hyundai Healthcare Cockpit tweaks seat, sounds and smells to keep drivers happy
Hyundai's new car interior tech monitors the driver and reacts in various ways to keep them more comfortable.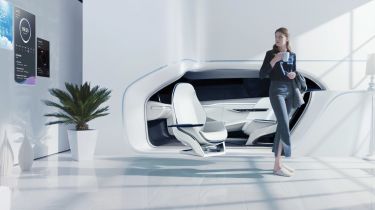 Prone to getting stressed at the wheel? Hyundai has the answer with a new 'wellbeing' cabin concept that it has unveiled at the Consumer Electronics Show in Las Vegas.
The Korean brand says its Healthcare Cockpit concept is intended to create an "in-car experience to support a positive mental state of the driver". The car uses biometric sensing tech to monitor the physical and mental state of the driver and intervene when all is not well.
Among the ways it could help would be to automatically adjust the driver's seat to a more upright position if it felt he or she was getting tired, or instigate a lower back massage if it thought the driver was uncomfortable.
An increased heart rate, indicating possible anger, could be detected and countered with an injection of a calming scent such as lavender or eucalyptus, while the lighting might be automatically adjusted to improve alertness.
Temperarature and music can be changed automatically depending on the driver's mood, while increased connectivity makes it easier to keep in touch with family and friends.
The Healthcare Cockpit was showcased in a virtual reality room, and head of Hyundai Ventures John Suh explained: "Technology can also be used to shift a driver's state of mind by creating conditions that cultivate a safer and healthier mental state."
Also at CES, Hyundai unveiled an Ioniq scooter that can be folded up and charged while it sits inside the door of the Ioniq electric car. It would allow Ioniq owners to park their vehicle on the outskirts of cities or at train stations and then complete the last leg of their journey on scooter.
Do you like the sound of the Healthcare Cockpit concept, or not? Let us know in the comments...