Hyundai Genesis gets top safety rating
Luxury saloon achieves highest ever score in Australian crash tests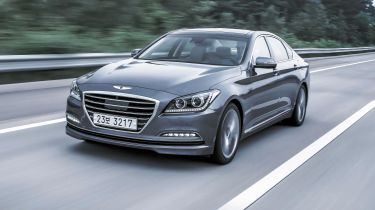 The Hyundai Genesis has been awarded Australian NCAP's highest ever score – with testers praising the luxury saloon's long list of standard safety kit including nine airbags, lane departure warning and automatic emergency braking (AEB).
While the Genesis hasn't been tested by Euro NCAP yet, it posted an impressive overall score of 36.88 out of 37 in Australia's stringent assessments – a record high in ANCAP's 21-year history.
"Genesis is Hyundai's flagship model and as such offers a high level of physical crashworthiness and excellent safety features as standard," said ANCAP chairman Lauchlan McIntosh.
• Safest cars on sale in the UK
"This is one of the first times we have seen the word 'standard' listed against almost every safety feature on our checklist. Importantly, automatic emergency braking is one of these standard features – one that has recently been left off many new models hitting our shores."
The top-spec Hyundai also comes with adaptive cruise control, electronic brake distribution, stability control and lane departure warning. Nine airbags, an active lift bonnet and reverse collision avoidance are also standard.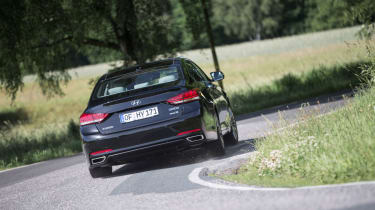 The new Genesis is designed to take on the BMW 5 Series and Audi A6, but Hyundai has been conservative in its sales predictions for the car in the UK. The 3.8-litre V6 petrol engine will limit its appeal in Europe, while a high price tag will put off badge-conscious buyers, looking for a premium image to match the premium price.
However, it's worth noting that manufacturers often use their flagship models as a test bed for future technology. The Mercedes S-Class has always been a technological masterpiece, with pioneering world firsts such as ABS brakes and pre-emptive safety tech now available on cars of all shapes and sizes.
So could this mean that future Hyundais will be the safest models in their class? Quite possibly. The current ix20, i30, ix35 and i40 all managed the full five stars in Euro NCAP's crash tests – with the new i20 supermini set to follow in their footsteps when it goes on sale next year. If the Korean brand can develop the Genesis's technology to make it more affordable in the coming years, there's no reason why we couldn't see lesser models boast the same safety credentials and top NCAP scores over the next decade.
Now check out our round-up of the safest cars on sale...