Infiniti Q60 performance coupe teased
Infiniti has released a teaser of its Q60 Concept ahead of its unveiling at the Detroit Motor Show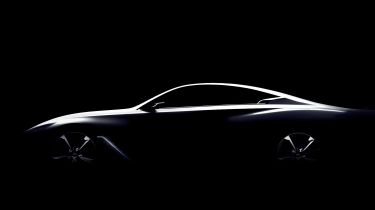 Infiniti is gearing up for the Detroit Motor Show in January by releasing a subtle teaser for its Q60 Concept. A performance coupe replacement of the outgoing G37, the Q60 is likely to appear in the UK at the start of 2016.
• Detroit Motor Show 2015: preview
As with most teaser images, its only the silhouette that can be made out, although that does reveal some interesting design features that may make it to the production-ready car. The muscular rear haunches are pronounced, as is the sculpted front wheelarch and large side sill. A distinctive 'kink' behind the rear window and the shapely wing mirror complete the look.
It been clearly differenciated from what it is rumoured to be based on platform-wise. The Q60 will likely sit on a modified Q50 compact executive saloon, in much the same way the car's immediate rival, the 4-Series coupe, is based on the 3-Series. Other details are sketchy so far, but we expect a range of turbocharged petrol and diesel engines based on the Q50's lineup. 
•Best compact executives of 2014
There is also likely to be a 3.7-litre V6 naturally aspirated petrol engine included, like the current G37, and eventually there might be a hotter version of the Q60 to rival the BMW M4. Prices are unconfirmed, but you can expect a starting figure of around £30,000 if its to compete with main German competitiors.
We'll have more details, plus hopefully some more revealing images, when the Infiniti Q60 is unveiled in the flesh at Detroit in January.