Infiniti to introduce high-performance S models and new VC-T engine
Infiniti to launch new groundbreaking variable compression engine, and a range of 'S' performance models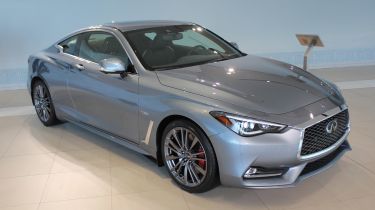 Infiniti is turning up the heat with a new line-up of 'S' badged performance models – and is also planning a groundbreaking new variable compression engine that will offer V6 performance combined with the efficency of a diesel.
The new Infiniti Q60 coupe will arrive in the UK later this year with a 400bhp 3.0-litre twin-turbo V6 S version that heralds the start of the new 'S' strategy – and it could pave the way for even more extreme Infiniti-badged cars engineered by sister brands Renaultsport or Nismo.
Infiniti president Roland Krueger explained: "There is a little red S on the Q60, and you will find it going forward on all our performance vehicles."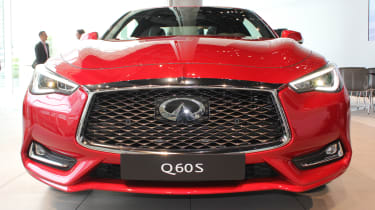 The Q50 S will take the fight to the BMW M3 when it debuts in the UK in August just before the Q60. This coincides with a slight facelift for the car, with the most significant change a new direct adaptive steering system.
A third Infiniti likely to get the S treatment is the forthcoming new QX50 SUV, which will be based on the QX Sport Inspiration concept seen at this year's Beijing Motor Show. But Krueger insisted the addition of S models won't be the only change in terms of how Infinitis are branded.
"We will have a silver S for a performance pack, which will be wheels and some differentiation," he continued. "And we will have a blue S for our direct response hybrid, which is our performance hybrid."
Krueger said that Infiniti had decided on this route rather than a bespoke performance division due to the small size of the brand compared to heavyweights like BMW and Mercedes, who have M and AMG respectively.
But he claimed that even hotter Infinitis are possible: "This is a more subtle approach," he said. "It is connected to the engine performance and suspension.
"Given the resources we have it is the right thing to do. We will establish these models first and then take the next step. We are aware what other brands are doing [AMG and M].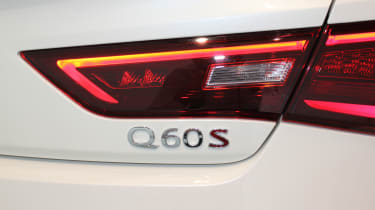 "Do we have to do this ourselves? Or do we have others who can do it for us in the [Renault-Nissan] Alliance? Renaultsport and Nismo are very good at performance enhancement and this is a discussion we are having."
Meanwhile, Alfonso Albaisa, executive design director, admitted he has been tasked to deliver sketches of how extreme Infinitis might look.
"I am very much working on this kind of stuff," he said. "It's not been given the green light but it is way in excess of what we have seen so far."
He added that he remains keen on developing a signature colour for performance Infinitis, following the demise of its Eau Rouge concept car. "I like this idea," he said. "The Candy Red on the Q60 is a hint at what we could do."
World's first variable compression engine
The forthcoming QX50 SUV will also be the first to benefit from the brand's new variable compression engine. The VC-T unit will be a world first for a production car and is claimed to offer the performance of a V6 but with much improved efficiency.
Details are still scarce, but fuel consumption is said to be comparable with 2.0-litre diesels.
The VC-T follows an aborted attempt by the now defunct Saab to launch a variable compression engine on the 9-5 in early 2000s. The project was canned on account of cost.
Would you buy a high-performance Infiniti? Let us know below...