Infiniti Q50 Eau Rouge gets Vettel treatment for Beijing
Infiniti's Q50 Eau Rouge high-performance sports saloon tested by Formula 1 World Champion Sebastian Vettel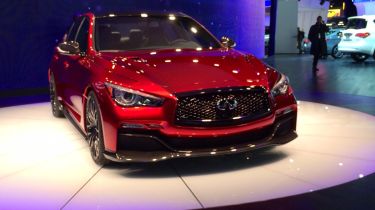 Infiniti has released a video teasing the Infiniti Q50 Eau Rouge concept being put through its paces by none other than Sebastian Vettel.
The four-time Formula 1 world champion, who serves as Infiniti's Director of Performance, can be seen testing the 552bhp performance saloon at the Millbrook proving ground in Bedfordshire.
Accompanying the visuals is a short, cryptic voiceover: "Origins make us. An idea that couldn't be built: a body without an engine, an engine without a driver. Skill. Will. Courage. Sweat. Destiny makes us."
The full-length film will premiere at the Beijing Motor Show later this month, and according to a statement the footage will feature Vettel "putting the prototype through a challenging series of performance, handling and precision driving evaluations."
Infiniti plans to use the Red Bull driver's feedback from the session in the next stages of the car's development, which involves "testing components, packaging and viability."
Although the Eau Rouge is still officially only a concept, the wording of this statement and Vettel's presence behind the wheel combine to suggest a production model may soon be unveiled.
As we reported at the Geneva Motor Show, the flagship Q50 will share the Nissan GT-R's 3.8-litre twin turbo V6, with all four wheels powered via a seven-speed dual-clutch automatic gearbox.
This should see the Eau Rouge race from 0-62mph in under four seconds on its way to a 180mph top speed – faster than its premium German rivals, the BMW M5 and Mercedes E63 AMG.
It may be a while before we're able to confirm these figures, so the video will have to do for now. We'll bring you more details as they emerge at the Beijing Motor Show.