Mercedes E63 AMG (2013-2017) review
Punchy and impressively efficient V8 engine helps Mercedes E63 AMG keep up with its supersaloon rivals
The wild Mercedes E63 AMG S was the most powerful four-door saloon money could buy - until the Vauxhall VXR8 muscled in on its patch. It combines punchy performance from its 5.5-litre twin-turbo V8 engine with decent efficiency, to rival the Jaguar XFR and Audi RS6. The restrained design inside and out is beginning to show its age, but it will still appeal to drivers who prefer not to stand out, while the impressive level of luxury and technology on offer makes the very expensive price tag a bit easier to justify.
Sitting just above the standard 549bhp E63 AMG, the 577bhp S version is aimed at buyers who want the absolute ultimate in performance and practicality and are willing to pay top dollar for the privilege.
Like the standard car, it also comes as a practical estate, with a four-wheel-drive version as special order – although that's hobbled by a left-hand-drive layout and a price tag which won't leave much change from £100,000.
Engines, performance and drive
With 577bhp and 800Nm of torque, the E63 AMG S delivers acceleration that would show many supercars a clean pair of heels. At the track, the Mercedes blasted from 0-60mph in 4.2 seconds – a tenth of a second quicker than the Vauxhall. Yet it's the AMG's scorching overtaking pace that really takes your breath away. We recorded a blistering 4.8 seconds for the 50-70mph sprint in sixth gear.
On the road, the AMG's thunderous engine delivers lag-free performance and lightning reactions. Above 2,000rpm, you ride a colossal surge of pulling power that fires the car down the road. The sensation of speed is enhanced by a slick seven-speed gearbox, which slots home rapid upshifts and serves up a crackling throttle blip with every downchange.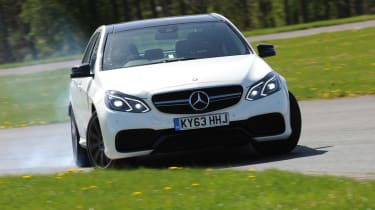 Yet the big Mercedes never feels out of its depth in corners. Solid body control, strong grip and quick, well weighted steering inspire huge confidence and letting you place it with pinpoint accuracy.
And while the traction control works overtime to tame wheelspin in wet conditions, in the dry the E63 feels calm and composed. Of course, if you switch off the stability control, it can easily be coaxed into smoking showboating tailslides.
However, the AMG's best party trick is that it seamlessly combines all this wild behaviour with everyday civility. The ride is remarkably supple with the dampers in their softest setting, while the cabin is insulated from wind and road noise and the tall seventh gear allows the engine to rev at a relaxed 1,850rpm at 70mph.
MPG, CO2 and Running Costs
You don't need a degree in economics to realise that the Mercedes E63 AMG will cost you a lot of money to run. We managed just 16.5mpg during our week with the car, despite having the drivetrain in fuel-saving ECO mode when cruising on the motorway.
Yet servicing costs are more manageable. Opt for the Mercedes service plan and you're looking at £540 per year – reasonable when compared to supercars with similar pace.The E-Class also has decent residual values on its side, with our experts predicting it'll hold on to 42.1 per cent of its value after three years, which is enough for the E63 to offset its higher asking price.
And while there's an extensive list of expensive options, the car comes with more than enough gadgets and gizmos as standard, such as sat-nav, Nappa leather seat trim and a surround sound Harman Kardon stereo system.
Interior, design and technology
The E63 stands out thanks to its complex detailing and neatly integrated aero features. Highlights include a bold F1-style front bumper insert finished in black, subtly flared wheelarches, a low-key tailgate spoiler and 10-spoke, 19-inch alloy wheels. As with the standard E63, you get Mercedes' excellent all-LED headlights. These brilliantly bright units have distinctive daytime running lights, plus they benefit from a cornering function and automatic high-beam control.
Inside, the E63 feels much more special than the Vauxhall, with a lovely Alcantara-trimmed steering wheel, metal gearshift paddles and a special stubby automatic shift lever giving the car a real motorsport-inspired ambience. It also features four additional switches and a rotary dial located on the right of the centre console. These control the car's gearbox shift modes, along with damper and stability control settings, and add to the race-bred atmosphere.
Plus, as you'd expect, interior quality is first-rate. Top-notch materials are used throughout, the finish is excellent and the switchgear operates precisely. Better still, the driving position is spot-on and the £1,090 optional dynamic seats offer unrivalled support for occupants.
Practicality, comfort and boot space
The E-Class has always been a large, practical car, and the E63 is no different. Racy looks and sensational performance belie the fact that the E63 AMG is as practical as a standard E-Class.
Its 540-litre boot equals the Jaguar XFR-S's, although you'll need an extra £415 for split-fold functionality. The E63 also loses points for the clumsy-looking speaker that sits on the ceiling of the boot – part of the optional sound system. This is prone to getting whacked by luggage, and reduces the load bay's height.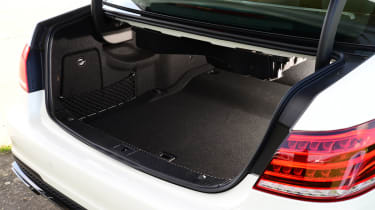 If you need more space, there's always the estate version. This model boasts a cavernous 695-litre boot, which increases to a vast 1,950 litres with the rear bench folded flat.
You'd expect a car producing nearly 600bhp to require the sort of mechanical pampering normally reserved for Italian exotics. Yet like all E-Class models, the E63 has a variable service schedule and should only need an annual check-up. And while the pre-facelift E-Class slumped to 27th in our Driver Power 2014 satisfaction survey from the top 10 in 2013, drivers of this model still rate its build quality and reliability.
Another part of the appeal is the Mercedes' five-star Euro NCAP score. The E63 S adds uprated brakes and a limited-slip differential for improved traction to the standard car's long list of life-saving kit. Plus, you can choose from plenty of hi-tech options, such as the £2,345 Driver Assistance Pack, which gives you adaptive cruise control, a blind-spot monitor and lane-keeping assist.