Infiniti reveals teaser for 'limit-pushing' concept car
Infiniti will bring a bold new concept car to the 2014 Paris Motor Show, thought to be a new Porsche Cayenne-fighting 4x4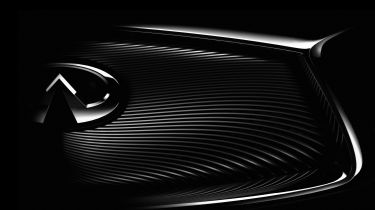 Infiniti has today released a teaser image of a grille accompanied by a cryptic message. Nissan's luxury offshoot announced: "Soon, Infiniti will share a vision, its soul, on a scale not seen before from the company."
An Infiniti spokesman confirmed to Auto Express that the grille belongs not to a production, but an all-new concept car. The other official word from Infiniti HQ states the concept car will "push the limits of style and substance".
It's thought that the bold rhetoric relates to a new SUV concept car, being readied for display at the Paris Motor Show in October 2014. The current range contains the QX50 crossover and the QX70 full-size SUV, which have been on sale since 2007 and 2003 respectively.
The QX70, formerly the FX, is the most likely candidate for replacement. Not only is it over a decade old, but Infiniti wants to capitalize on the booming sales of sporty, road-orientated crossover SUVs in China and Russia. The QX70 has always majored on bold styling and high performance over mainstream practicality, offering only one 3.0-litre diesel in the UK alongside a 3.7-litre petrol V6 and 385bhp 5.0-litre V8. It's even spawned a 420bhp carbon fibre-clad F1-inspired special edition, the FX Sebastian Vettel, back in 2012.
As Infiniti's parent-brand Nissan has an alliance with Mercedes, it's likely the new QX70 will use mechanical components from the Mercedes ML. Expect the concept car's styling to feature a rakish roofline, bold surfacing and huge wheels, which have been a trademark of the polarizing QX70 throughout its lengthy life cycle.