JLR develops auto-opening door for disabled drivers
JLR develops prototype door which can open and close automatically, giving disabled motorists easier access to their vehicles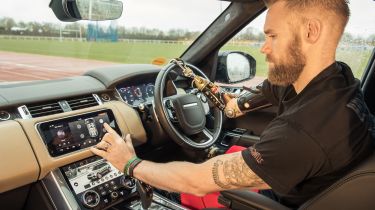 Jaguar Land Rover has developed a mobility door that opens automatically as the driver approaches through a combination of motion sensors, existing keyless entry technology and gesture control.
Once on board, occupants close the mobility door with an overhead button, removing the need to reach for the handle. Jaguar Land Rover say this technology could make life significantly easier for disabled drivers, a third of whom report that using a car presents difficulties. JLR also says the technology could be useful for drivers entering their cars when carrying heavy items.
The system was developed over the course of six months, before its trial fitment to the British company's Range Rover Sport. Jaguar Land Rover hope the technology will be relevant to all its future models, finding particular use in shared mobility vehicles.
Radar sensors in the driver's door detect cars and other obstacles to prevent damage when the door automatically swings open. The car's infotainment system shows the status of each door, as well as allowing the operation of the two front doors. The software can also be used to programme the doors to automatically close and lock behind the driver when they walk away from the vehicle.
Jaguar Land Rover worked with the gold-medal-winning, triple-amputee, Invictus athlete, Mark Ormrod during the prototype's development. He praised the system, saying: "opening and closing the car door may seem like such an insignificant task to many people but sometimes it's the small, everyday obstacles which people take for granted that are most frustrating to overcome for those living with disabilities."
What are your thoughts on Jaguar Land Rover's mobility door? Let us know in the comments below…