Jaguar Land Rover to test cars for electromagnetic compatibility
The bespoke testing programme aims to put the latest JLR tech through the stresses and strains of everyday life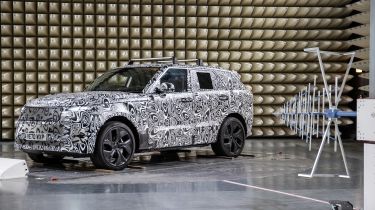 Modern cars are offering more and more technology and now Jaguar Land Rover claims it has the solution to making sure these gadgets won't go wrong. The British firm has built an electromagnetic compatibility (EMC) laboratory at Gaydon, which JLR says "will help future vehicles meet current and future legislation and quality standards for connectivity and electronics".
The new Range Rover Sport is the first JLR vehicle to undergo a testing programme at the in-house facility. The laboratory is able to test if electrical equipment and systems function correctly under electromagnetic interference. 
The laboratory houses two anechoic chambers, a rolling road to mimic the car's noise at road speeds and equipment to analyse batteries, electric motors and other individual components. 
The aim of testing for electromagnetic compatibility is to make sure things like Bluetooth, GPS, WiFi, 4G, 5G, adaptive cruise control, wireless charging will work under sub-optimal circumstances. 
Peter Phillips, Senior Manager, Electromagnetics and Compliance at Jaguar Land Rover, said: "The importance of testing our vehicles for electromagnetic compatibility cannot be underestimated." 
JLR added that with an increasing number of electric powertrains and the range of digital and cloud-based services on vehicles, from Software-Over-The-Air updates to autonomous technology, testing for EMC is crucial to delivering quality, legal, and customer satisfaction. 
Now check out the top 10 cars for safety systems here...