'How Jeep could finally fulfil its potential in the UK'
Editor-in-chief Steve Fowler thinks promising times are ahead for Jeep after speaking to the brand's global boss Mike Manley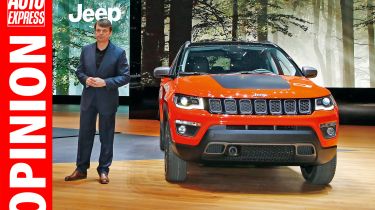 With UK buyers (like those around the world) seemingly obsessed with SUVs, you'd think that Jeep would be making hay over here right now. But year-to-date sales figures down 50 per cent look worrying out of kilter with the rest of the market, especially given the strength of the Jeep brand and a line-up that's comprised solely of SUVs.
I met up with Jeep's global boss and Auto Express Hall of Fame member Mike Manley (above), and he gave us his thoughts on why Jeep has been underperforming in the UK, as well as how he hopes the brand can hit new highs over here.
"Our historic product portfolio in the UK has not been as competitive as it needs to be," Manley admitted. "We were not competitive enough for us to grow significantly, so we stagnated while the market grew and moved on.
"In 2009, the tech we had was so far behind the game – we still had a four-speed automatic transmission back then. Our engine technology, our in-car entertainment tech; we've had to run very fast to catch up. Once we began with our nine-speed transmissions, our UConnect systems, improving our interiors dramatically – once we got through that phase, we stabilised rapidly. Now we've just got to continue to push that envelope."
Our experience of the latest product shows that Jeep is now competitive and improving, while the new Compass mid-size SUV can't come soon enough.
Manley also spoke highly of his UK dealers: "We've got a great dealer body who've stuck with us. We're hoping now to build some really good times."
Customers agree, with Jeep dealers in a superb third place in this year's Driver Power dealer survey. With plenty of new cars coming, too, it bodes well for a Jeep resurgence in the UK.
Would you like to see Jee make an bigger imact in the UK? Let us know in the comments section below...