Jeep rules out smaller A-segment SUV
The Jeep Renegade will remain the smallest car in the brand's range for now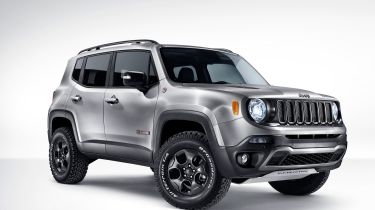 Jeep has ruled out introducing a small SUV to sit beneath the Renegade in the car maker's range – for the time being.
Jeep's boss Mike Manley said at the Geneva Motor Show that his team was having an "internal debate into models smaller than the B segment".
"We'll never say never, but there's nothing on the table today," he added.
Manley said the introduction of the Renegade had increased the percentage of females buying into the brand's products, and had helped to reduce the average age of a Jeep owner by three years.
The model was "ahead of expectations", he said, adding that the Renegade was bringing new buyers into Jeep's showrooms and was helping to boost sales of the larger Cherokee.
Any A-segment SUV would be based on the Fiat Panda Cross, but as with the Fiat 500X-based Renegade, Jeep would be able to command a price premium due to additional equipment and capability.
Manley said that Jeeps must "always be the most capable model in the segment", but conceded that the Panda Cross is already the most capable small SUV available. That would put any future A-segment Jeep on a solid footing.
Now see the rest of the metal on display at the Geneva Motor Show.