Jeep Wrangler Salute Concept is giant oo-rah to brand's 75-year history
As part of Jeep's 75th Anniversary celebrations, this special Jeep Wrangler Salute Concept harks back to original Willys MB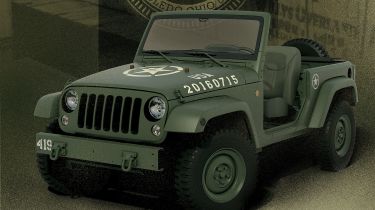 To celebrate its 75th anniversary, Jeep has built a unique, commemorative Jeep Wrangler. The 75th Salute concept off-roader has a design inspired bu the original Willys MB.
The 'function over form' motto the original MB carried is evident in the Salute. There are no doors or B-pillars and Jeep has even painted the car in the olive colour scheme made famous during the Second World War.
It's officially 75 years since the US government awarded the contract to Willys-Overload Motor Co. to supply the army with the Willys' MB. At the time, the US Army invited 135 manufacturers to attempt to make the perfect 'go anywhere, do anything' themed vehicle that Jeep has since become famous for.
The Army wanted four-wheel drive, three-bucket seats, a 600lb. load capacity and the car to be smaller than 36 inches among other things. Though more modern than the original, the Salute does come with a host of features that hark back to the Willys MB.
There are 16-inch steel wheels wrapped in 32-inch military non-directional tires, along with hood latches, and a rear mounted spare wheel. Both the front and rear bumpers are made of steel with tow hooks, and there's even custom wood hood blocks and side mirrors.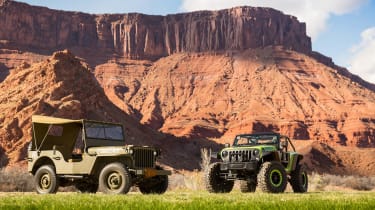 Under the bonnet rests a 3.6-litre V6 connected to a six-speed manual gearbox. Keeping with tradition, the model is built in Toledo, Ohio – the home of the Jeep Wrangler since 1986.
Mike Manley – Head of Jeep Brand FCA Global – explained the idea behind the Salute: "We are creating this unique Jeep Wrangler 75th Salute concept vehicle in celebration of the brand's legendary history, and to demonstrate that 75 years later, today's iconic Jeep Wrangler is instantly recognizable and clearly connected to the original Willys MB."
What do you think of the Salute Concept? Leave us a comment below...