Lamborghini Huracan Polizia given to Italian police
Lamborghini builds Huracan Polizia to give Italian police an edge in the fight against high-speed crime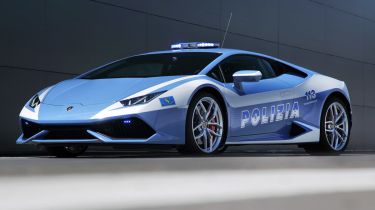 Italian criminals ought to be on the lookout, as Lamborghini has donated a police-spec version of the new Huracan to the country's State Police at a ceremony in Rome.
Due to enter service before the end of this year, it replaces the Gallados used by the Italian fuzz since 2004, taking over the task of accident and crime prevention on the nation's roads.
Officially dubbed the Huracan LP 610-4 Polizia, it features the standard car's 602bhp 5.2-litre V10 engine, which gets its power down via all-wheel drive to see off 0-62mph in 3.2 seconds before maxing out at over 202mph.
If this and the 'blu Polizia' colour scheme fail to deter criminals, the Lamborghini has also been fitted with automatic number plate recognition and tracking, complete with real time image transmission to local control rooms for stolen vehicle checks. 
As part of this 'Proof Video Data System', GPS data is used to calculate the Huracan Polizia's precise location, enabling police to determine the speed of any suspicious vehicle.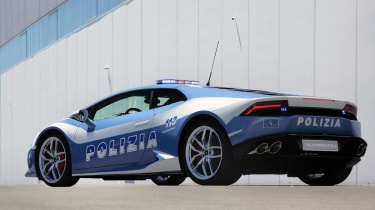 An added benefit this special Lamborghini brings to the police fleet is its potential as an urgent medical transportation vehicle – the front luggage compartment features a special refrigeration system for donor organs. On top of this, there's also a life-saving defibrillator.
It's not all about the high tech kit though, and the Sant'Agata brand has fitted the police edition Huracan with a range of standard law enforcement equipment, such as a gun holster, police radio and a removable screen to guide offenders through their crime(s). And this wouldn't be an Italian without a 'Paletta' thrown in, a traditional hand-held stop sign used when signaling motorists to pull over.
Even the police beacon has been given the Lamborghini treatment, having been aerodynamically optimised to cope with the higher top speed possible in the Huracan. As you can see, the flat construction makes use of LEDs for improved all-round visibility, while further white LED signals are fitted to the front, sides and rear. 
Supposing the roaring V10 goes unnoticed, there's ample noise potential, too. A total of four sirens are integrated into the front and rear for additional aural warning. 
"We have a strong and fitting relationship with the Italian State Police," explained Lamborghini boss Stephan Winkelmann at the handover. "The new Lamborghini Huracan stands for Italian super sports car excellence and we are proud to provide it to the Italian State Police to carry out the specialist tasks these police cars undertake.