New Land Rover Discovery Vision Concept: details and pics
New three-model Land Rover Discovery range previewed by Discovery Vision Concept at New York Motor Show 2014
Most impressive of all is the smart glass. This not only acts as a head-up display for traditional instruments, sat-nav and the innovative Transparent Bonnet; it also means info can be displayed on every glass panel (even the roof) for driver and passengers.
Combined with eye tracking and sat-nav, it can apparently spot if a passenger is looking at a landmark, then display information about it on the glass. With gesture control, the passenger can then swipe the info to their 10-inch seatback infotainment screen or their smartphone. Of course, there's Wi-Fi, too.
The laser headlights complement laser terrain scanning and laser referencing to boost the Discovery's off-road ability, while the pièce de résistance could well be Remote Control Drive. It works at low speed, so you can operate the car from outside for extreme off-roading or simply driving through tight gates.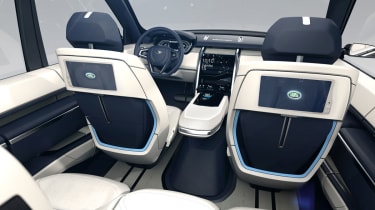 From playing catch-up, Land Rover is trying to position itself as a technology leader. But McGovern told us this is being done with a purpose: "It's about technologies that are enabling versatility, not technology for the sake of it."
The first of the production Discovery models will be the Freelander-replacing baby Discovery that we believe will be called Discovery Sport. We'll see the production version later this year. That'll be followed by a replacement for the full-size Discovery later in 2015.
Land Rover Discovery Vision Concept: top 5 technology highlights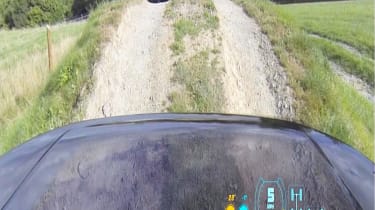 1. Invisible bonnet - Land Rover will let drivers see what front wheels are doing by using range of cameras to relay image on to head-up display.
2. Gesture control - Space-age feature is used to operate everything from doors to lights and indicators – and even the rotary gearshift.
3. Smart Glass - Acts as head-up display for sat-nav and instruments, plus can display info on every panel (even the roof) for driver and passengers.
4. Lasers - Laser terrain scanning and laser referencing boost Discovery's already legendary off-road ability. It's got laser headlights, too.
5. Remote drive - Clever Remote Control Drive works at low speed, allowing operation from outside the car – very useful for extreme off-roading.
What do you think about the Discovery Vision Concept and Land Rover's plan for a three-model Discovery range? Is the famous British brand going in the right direction? Join the debate in the comments section below...