Hot 2018 Range Rover Velar SVR spotted testing again
A flagship SVR performance version of the Range Rover Velar is on course for a late-2018 debut
Land Rover is set to add a hot V8-powered Range Rover Velar SVR to its line-up before the end of the year, and the latest spy shots show the Porsche Macan Turbo rival testing close to the Nurburgring.
Though the most recent images still show a car under heavy disguise, some additional details can be found relative to the previous versions we've seen. The aggressive front bumper wears less camouflage, revealing both the front splitter and the vents to either side of the vast main air intake.
Around the back, quad tailpipes feature. It also appears that Land Rover might be considering fitting a more extreme rear wing. While earlier spy shots showed the car with the Velar's standard rear spoiler, the latest mule appears to have an extra element attached to extend the trailing edge.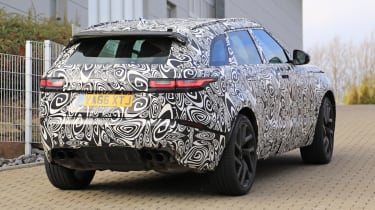 As with earlier prototypes, the rear bumper has been lifted slightly to accommodate a more extreme diffuser. Enlarged alloy wheels hide some serious-looking brakes with red calipers.
A licence plate check on a previous UK prototype confirms that the Velar SVR will feature Jaguar-Land Rover's ubiquitous supercharged 5.0-litre V8. It's the same unit used in a number of SVR cars across both brands, boasting 567bhp in the recently refreshed Range Rover Sport SVR.
With this engine on board, the Velar looks set for a significant boost in power over the current range topping P380 model, which makes use of a 375bhp six-cylinder petrol. Expect a 0-62mph time close to the four-second mark.
Alongside V8 power and slightly sportier looks, the Velar SVR's suspension will be revised, with adaptive dampers featuring an SVR-specific mode. A beefed-up exhaust will provide a racy soundtrack, and inside figure-hugging sports seats will lift the cabin.
Are you looking forward to seeing the Range Rover Velar SVR? Tell us your thoughts in the comments...