Lexus to launch first PHEV in 2021 and new EV in 2022
Lexus aims to expand its electrified portfolio rapidly up to 2025, with more than 10 new models planned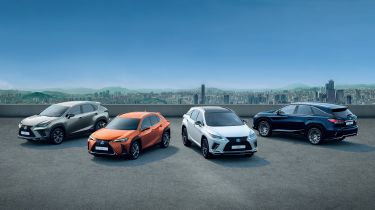 Lexus has announced plans to quickly grow its electrified vehicle range between now and 2025. The Japanese manufacturer says it will introduce 10 new cars in the next four years, all of which will feature either a hybrid, plug-in hybrid or pure-electric powertrain.
The two most important new cars will be a plug-in hybrid model that will make its debut this year and a full EV, which will be unveiled in 2022. The PHEV will also mark the first time Lexus has dabbled with plug-in hybrid technology.
Lexus has confirmed precious few technical details about its new electrified models, but we can take an educated guess about what will power them, based on the technology the firm has access to from within the Toyota group.
Toyota offers a plug-in hybrid version of its RAV4 SUV. The powertrain comprises a 2.5-litre four-cylinder petrol engine, a pair of electric motors and an 18kWh battery pack, for a combined output of 302bhp and a class-leading electric range of 46 miles.
If the upcoming Lexus PHEV does use this powertrain, it's feasible that it could also use the same GA-K platform. The chassis already props up the Lexus ES saloon and is expected to underpin the second-generation NX SUV, which is set to be revealed later this year and is likely to become the new plug-in hybrid model detailed in Lexus's announcement.
The EV arriving in 2022 will likely take the form of a production version of the brand's Lexus LF-Z Electrified SUV concept, revealed earlier this year. Like the Toyota bZ4X concept, it's a four-door crossover, although it has a more performance-focussed brief than its Toyota-badged cousin.
The Lexus will use the same e-TNGA platform as the Toyota bZ4X SUV too, and as the architecture was developed in tandem with Subaru and, like the Volkswagen Group's MEB platform, it was designed to be scalable for use in a broad range of vehicles.
Lexus has also confirmed that its future EVs will feature its new DIRECT4 all-wheel drive torque distribution technology and fly-by-wire steering.
The former system was developed specifically for Lexus vehicles which, as the name suggests, will provide four-wheel drive. However, the latter system is already found in the Toyota bZ4X concept, giving a little extra substance to the suspected platform sharing strategy.
The LF-Z Electrified concept has a 90kWh lithium-ion battery and a four-wheel drive electric powertrain, which produces 536bhp and 700Nm of torque. Lexus says that's enough for a 0-62mph time of three seconds and a maximum range of 373 miles between charging stops.
Now read all the latest news on the upcoming replacement for the Lexus NX…