Lexus will build the stunning LF-LC
Vice President of Lexus Europe confirms that Lexus' LF-LC concept car will make production
Lexus has confirmed that it will put the stunning LF-LC concept, first seen at the 2012 Detroit Motor Show, into full production. But according to Alain Uyttenhoven, Vice President of Lexus Europe, it will be a far more accessible model than the short-production run LFA supercar and go up against the likes of the Mercedes S-Class Coupe and Maserati Gran Turismo.
"It will not be a full carbon car costing £350,000. It will be - in terms of construction - a more normal car, a car than can be manufactured in larger quantities than just a batch of 500," Uyttenhoven said. "This shows there will be more emotion from the brand."
There's no word on powertrain just yet, but considering the show car was powered by a 500bhp hybrid system, and 98 per cent of the car's Lexus sells in EU countries now are hybrids, something similar to that is likely. And if rumours are to be believed, a more conventional twin-turbo V8 version could be offered alongside that.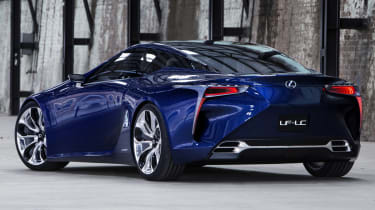 Uyttenhoven wouldn't be drawn on a time scale for the car, but confirmed that its design "might be very close to the concept," and that other Lexus F models are in the pipeline: "In the UK 25 per cent of cars are sold in F Sport and a big part of customers respond positively to that. Next to LFA, RC-F will be launched at the end of this year, are we going to have more F models? Yes, and maybe coming soon.
"We are too much in the rational corner for people, what we miss is a bit of passion," he added. "What you will see and what we will add - and the NX is the first full example of this - is that our cars in the future will polarise in terms of design."
He also hinted that a smaller SUV to sit below the NX was under consideration: "Smaller SUVs? My answer is that it could make a lot of sense. We haven't made an announcement yet, but it could make sense because for the European market and the Chinese market this is where a good chunk of the volume is, but we will not rush into anything."
Is Lexus doing the right thing by taking a sportier approach? What would it take for you to choose a Lexus over a BMW, Audi or Mercedes? Let us know in the comments section below...