Lexus designs SKYJET spaceship for new film release
The Lexus SKYJET brings the spindle grille into the 28th century in the upcoming film, Valerian and the City of a Thousand Planets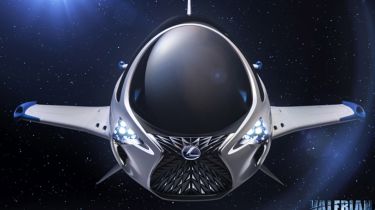 Lexus has unveiled a new single-seater, with advanced aerodynamics and jet propulsion. The company is keeping quiet about details such as fuel economy and boot capacity, but the first orders will ship in around 700 years...
The new SKYJET is fictional, of course. Lexus has created it for the upcoming film Valerian and the City of a Thousand Planets, a scifi epic set in the 28th century. It's being directed by Luc Besson, who was also the artistic eye behind The Fifth Element and most recently Lucy, and produced by his film studio, Europacorp. It's based on the popular graphic novel series 'Valerian' and has the largest budget of any European-produced film in history.
Lexus' aim with the SKYJET was to create a vehicle that looks as if it could be from the future, but with a grounding in reality. The resulting spacecraft is a sleek shape that tapers towards the end. It's covered in fins, and around the front is a new iteration of Lexus' 'spindle grille' – as well as a pair of headlights similar to those on the contemporary LC coupe. Above sits a panoramic windscreen which should give awesome visibility, while the Lexus badge sits on the centre of the front panel.
David Nordstrom, Global Branding Department General Manager at Lexus, said of the SKYJET: "As fans of film and Luc Besson's work, Lexus is privileged to bring the director's dream to life. We enjoyed the challenge of bringing Lexus's design philosophy and technology innovations to this project. We look forward to developing our partnership with EuropaCorp as we strive to give audiences the most amazing experiences imaginable in the coming years."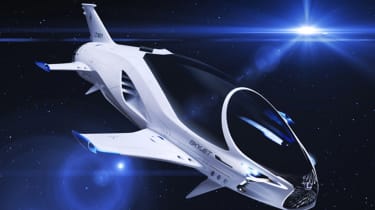 Valerian and the City of a Thousand Planets will arrive in cinemas next July, and features an all-star cast including the likes of Cara Delevigne, Ethan Hawke, and Rihanna.
Do you think Lexus' future lies in space travel? Let us know in the comments below...