New 2020 Lexus CT hatch to rival Tesla Model 3
Exclusive image previews look of the next Lexus CT, which is likely to be offered as a pure EV, as well as hybrid, when it arrives in 2020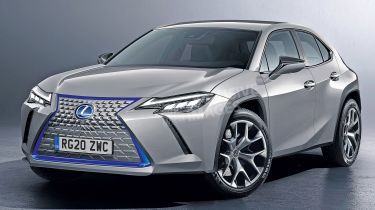 Lexus is planning a radical successor to its CT hatch – and the newcomer could be offered as a pure-electric Tesla Model 3 rival, as well as a petrol hybrid, Auto Express can reveal.
The existing CT is still being sold in several countries, including the UK, where its hybrid-only powertrains have given it an extended lease of life. But the forthcoming arrival of the new UX small crossover had been expected to sideline the five-door hatch altogether.
However, Lexus's European boss Pascal Ruch has told us a CT successor is on the way, and the brand is looking to offer "something different" to counter the Mercedes A-Class and BMW 1 Series.
"The CT has a high conquest ratio of 70 to 75 per cent," Ruch said. "It's useful at bringing new people to the brand. People buy the CT for efficiency; with the UX, we're looking for a different customer.
"If the question is 'Will we replace the CT?', let's say so. If we look back since 2012, the brand has experienced, step by step, a strong evolution. But I believe all the segments we are now in, it's important to stay there," Ruch said.
We understand that the next CT's unique selling point could be a mix of powertrain options – potentially adding the more potent 2.0-litre hybrid being introduced on the latest Toyota Auris. Crucially, Lexus may also offer a CT EV.
• Best hatchbacks on the market
The CT is likely to arrive in 2020 as a sister model to the Auris, sharing that car's TNGA platform. And while no pure EVs have been introduced on that architecture, it's understood to be compatible with the brand's goal of offering "more than 10 battery-electric models" by the early 2020s.
Lexus may decide to shake up the CT's design, too – and our exclusive main image previews how it could look. The car will have to rival both the A-Class and GLA – and we understand a number of proposals are under consideration, including a hatch and a crossover that mixes SUV cues with a less upright stance.
"We might have to think about a different approach to the sector," Ruch said. "Maybe it's the time to find something new in the CT's segment."
There are no immediate plans to stop selling the existing CT in the UK. Indeed, if the current model's sales aren't hit too badly by the introduction of the UX, it could conceivably carry on in dealers until its successor arrives.
Do you like the look of our exclsuive image of the next Lexus CT? Let us know in the comments section...