Driver Power: Lexus GS is UK's favourite used car
The Lexus GS has been voted best used car to own in the 2021 owner satisfaction survey, followed by the Skoda Superb and BMW 3 Series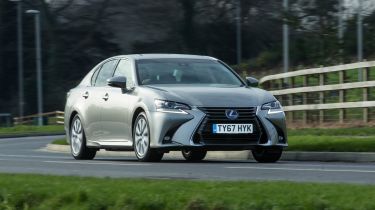 The Lexus GS has been voted the best second-hand car to own in the 2021 Driver Power Used Car Survey. The premium saloon performed admirably across all categories, with notably impressive scores for its reliability, build quality, powertrains, ride quality and heating/air-conditioning.
Second and third places in the used car rankings went to the Skoda Superb and BMW 3 Series respectively, while Lexus took the overall crown in the brands lineup. Alongside the GS in the top 10 were three other models from the Japanese manufacturer - the RX Mk3, CT and RX Mk4, which took fourth, sixth and seventh places respectively.
European brands also saw strong performances, with Renault, Skoda, BMW and Porsche landing cars in the top spots for various classes, while category wins were also dished out.
What is Driver Power?
The Driver Power Used Car Survey saw more than 30,000 respondents from around the UK rate their used cars across 35 criteria, including performance, comfort, economy, build quality, infotainment, connectivity and safety features. Reliability was also judged, with a separate ranking based on the number of faults reported.
For every new car sold in the UK, around four used models change hands, indicating how vital the results of the UK's most comprehensive used car survey are to buyers, while manufacturers can also learn from the data.
Chris Rosamond, consumer and features editor at Auto Express, lauded the value of the granular detail provided by Driver Power. He commented: "The real value of Driver Power is the fully independent perspective it provides in a car market awash with competing claims from manufacturers.
"Such a rich source of insight from the real world gives car buyers a chance to really zero in on what matters most to them when they're researching their next used car purchase.
"It's especially valuable if you want to be sure that you'll get on well with a feature that often varies widely in user perception, even among otherwise excellent cars, because Driver Power reveals essential details of the ownership experience available nowhere else.
"For example, if the car's infotainment system is a priority to you, this year's survey reveals that the one in BMW's 3 Series Mk7 is rated best of all. But if the stereo matters more, you might consider the Skoda Superb Mk3. And if you're EV-curious, the fact that the highest rated transmission of all is a car without one - the BMW i3 - might just swing your decision."
The full results of the 2021 Driver Power Used Car Survey can be found in Issue 1,700 of Auto Express, which is on sale now and you can help shape the 2022 version of the Driver Power survey by telling us about your car.
Tell us about your car in the latest Driver Power survey here...