Lexus LC racer previews new twin-turbo V8 engine
The track car's twin-turbocharged V8 engine will eventually find its way under the bonnet of future Lexus production models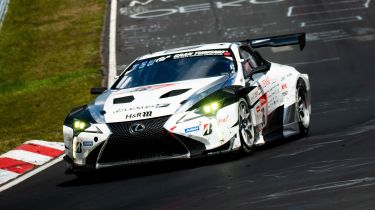 Lexus has confirmed that its 2020 LC Coupe Nürburgring 24 Hours racer will sport a new twin-turbocharged V8 engine, which is destined for use in the firm's future production cars. Toyota is yet to confirm which production vehicle will use the engine but, given its current home in the LC racer, we expect it will be the new LC F Coupe.
While Lexus parent Toyota is yet to reveal any specifications about the new powertrain, our sources have previously suggested that the LC F Coupe's engine will be an all-new 4.0-litre unit producing around 600bhp, rather than a development of the LC 500's naturally aspirated 5.0-litre engine.
• Best sports cars on sale now
In keeping with industry trends, the new V8 could also feature the popular "hot vee" turbocharger configuration, with the turbos mounted between the cylinder banks for more efficient packaging, reduced lag and improved thermal management. This engine layout is also found on Mercedes-AMG's 4.0-litre V8, the BMW M8 Competition's 616bhp 4.4-litre V8, and the Alfa Romeo Giulia Quadrifoglio's 2.9-litre V6.
Our spy photographers have previously snapped an LC F Coupe development mule undergoing its handling assessment – and Yoshihiro Sawa, President of Lexus International, has previously confirmed the viability of the car's business case.
Toyota says that as well as a new engine, the Lexus LC Nürburgring 24 Hours racer will sport a host of additional equipment that will eventually filter down to its production models. These include fresh aerodynamics components, improved performance suspension, and optimised driver assistance technologies, such as a new traction control system and enhanced anti-lock brakes.
Do you think the new Lexus LC F Coupe will be a success? Let us know in the comments section below…