Lexus RX 450h vs rivals
The revised Lexus RX 450h wades in to tackle SUV rivals from Mercedes and VW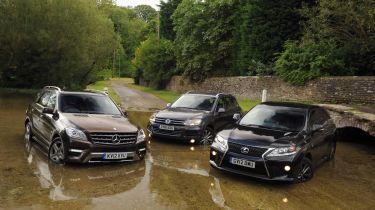 When the second-generation Lexus RX was launched three years ago it made a bit of a splash. With its low CO2/high MPG petrol/electric powertrain and luxurious cabin, it caught its traditional dieselengined rivals in the large SUV market on the hop. However, the chasing pack has caught up, with many now getting close to matching the hybrid's headline CO2 figures and impressive claimed fuel returns.
So in an effort to stay ahead, Lexus has put the RX under the knife, delivering revised looks, a tweaked cabin and a sprinkling of mechanical modifications. Prices start at £44,495, and we test it in all-new £51,995 F Sport trim.
Facing up to the Lexus is the entry-level Mercedes ML 250 BlueTEC. Powered by a four-cylinder diesel, it promises tax-busting CO2 emissions, plus the upmarket allure of the three-pointed star badge on its grille. The VW Touareg isn't as packed with premium appeal, but it's beautfully built, good to drive and attractively priced. And with lots of BlueMotion tweaks under the skin, it should be cost-effective to run, too.
Verdict
Ever-increasing fuel prices and spiralling tax bills mean that this trio of green-themed SUVs is guaranteed to find plenty of fans. And the Lexus still makes the most sense in terms of the bottom line.
Even in £51,995 F Sport trim, it's the cheapest on company car tax, plus it returned the best performance at the pumps. Although the cabin is starting to feel a little dated and it's not the most practical choice, the RX still beats the Mercedes.
The M-Class counters with a huge interior and is packed with premium kerb appeal, but its four-cylinder engine is unrefined and the ride is sometimes a bit too harsh.
So can the Lexus also beat the VW? Well, not quite. The Touareg is beautifully built, practical, fast and good to drive. And even if you specify the desirable air-suspension, it still undercuts its rivals on price.