Lexus RX vs Volvo XC90
Revamped versions of the Lexus RX and Volvo XC90 fight for honours in our seven-seat hybrid SUV test
Lexus has been a big proponent of hybrid power for decades, forging a path with petrol-electric propulsion that's coincided with a political change in the automotive world recently, bringing hybrids like the pairing we're testing here to the fore.
Of course, Lexus's rivals haven't been resting on their laurels. Volvo is another brand that's cottoned on to the environmental and money-making potential of hybrid power in its line-up of models; only it has pushed ahead with plug-in powertrains. There are some spec upgrades to both cars when it comes to their chassis set-up and powertrains, but the big news for the Lexus that makes it much more appealing is the updated infotainment.
This has traditionally been one of the brand's weak points, so it's good to see the RX will be fighting Volvo's XC90 T8 on a more equal footing now. However, there are so many areas where premium seven-seat SUVs like these have to succeed that there's nowhere to hide for either model. Let's find out which of these hybrids is the most convincing choice.
Lexus RX
| | |
| --- | --- |
| Model: | Lexus RX 450h L Takumi |
| Price: | £63,355 |
| Engine: | 3.5-litre V6 turbo + 2 electric motors, 308bhp |
| 0-60mph: | 7.6 seconds |
| Test economy: | 36.8mpg/8.1mpl |
| CO2: | 138g/km |
| Annual road tax: | £455 |
This new RX L isn't a huge alteration from what came before it, but Lexus has listened to customer feedback and improved the car in key areas. We're testing a £63,355 top-spec RX L 450h Takumi to find out if the changes have worked.
Design & engineering
We'll start with the big updates. The infotainment has always been one of the RX L's failings, but it's been updated to include Apple CarPlay and Android Auto – firsts for Lexus.
The chassis has also received some technical tweaks to improve handling. These alterations have also allowed the Japanese manufacturer to soften the RX L's springs, to improve comfort, it claims.
There's also something called a Friction-Controlled Device, which is a clever bit of kit inside the shock absorbers that reduces vibration over high-frequency surfaces. It's part of the new Adaptive Variable Suspension technology, which Lexus says allows for much finer control of the suspension dampers.
The powertrain remains as it was before, which means there's a 259bhp 3.5-litre V6 engine that's teamed with two electric motors: a 165bhp unit driving the front wheels and a 67bhp motor on the rear axle. Combined, they deliver 308bhp.
Those electric motors are powered by a smaller battery than the Volvo's, and its nickel metal-hydride cell chemistry is arguably not as advanced as the Swedish car's unit. The RX is also what Lexus calls a 'self-charging' hybrid; take this with a pinch of salt, because what it really means is the battery is topped up through regenerative braking when slowing down and by the engine acting as a generator.
The Takumi trim's kit is great, because pretty much everything is standard, including Lexus's Safety System+, adaptive LED lights, heated front and rear leather seats, a 12.3-inch infotainment screen, a Mark Levinson stereo, wireless charging and a 360-degree camera with parking sensors.
Driving
As long as you don't push the RX L too hard, it's a refined and comfortable machine.
The previous car rode relatively smoothly and the Friction-Controlled Device has helped further dampen vibration on bad roads. It's clearly softly set up, but the suspension does sometimes struggle to regulate the body's movement. Yet most of the time it's comfortable. Only bumps that thump cause a more violent reaction from the rear axle in particular, but the Volvo isn't immune from these symptoms either. The handling isn't really any sharper than before and the steering is light and has almost no feel. If you drive just a little bit too fast it'll run out of ability quickly.
It also means you move the engine out of the relaxed groove it likes to operate in. The combined torque of the V6 and electric motors is enough to make calm progress when cruising around. The CVT gearbox manages the power sources well and keeps revs down. But as soon as you want a harder, more sustained burst of acceleration, the electric motors' grunt makes up a smaller proportion of what's needed, so the engine revs rise and the deep V6 note sounds a little more grating. The 0-60mph sprint was still strong, though, because the CVT keeps revs at the optimum level for acceleration; the Lexus took 7.6 seconds, while 30-70mph took 6.2 seconds.
Both times were slower than the Volvo's, but on the road the RX doesn't feel inadequate or sluggish.
Practicality
This is where the RX L loses marks to the XC90, because it's a smaller package. The third row of seats is much tighter – adults will feel cramped – while the lower roofline relative to the car's floor height, plus the narrower gap left by the sliding and folding middle row seats, mean access will be more difficult.
There's also less room in the middle row than in the Volvo, while the front feels tighter, too, again due to the raised-up floor and what feels like a relatively low roofline. The dimensions show the Lexus is more than 7cm shorter than the Volvo.
It also has a smaller boot, with just 176 litres of room with all seats in place, compared with 262 litres in the Volvo. It's the same story with the rear row folded, which is actually an easy operation, just as in the XC90. There's 432 litres on offer compared with 640 litres in the Volvo. Fold both rows and, while the RX L's 1,656-litre load bay is still quite big, the Swedish SUV caps it again with 1,816 litres.
Yet the RX L has a powered tailgate, and there's no need to store cables since it's a conventional hybrid.
Ownership
Lexus is traditionally a strong performer in our Driver Power satisfaction survey and its 2019 result was no different. It topped both the overall and dealer sections of our poll, while safety is a match for this.
The Safety Sense+ system comes as standard, which includes collision warning with autonomous braking, lane-keep assist, adaptive cruise, adaptive LED lights, blind-spot monitoring, cross-traffic alert and traffic-sign assist. The features secured the RX a five-star Euro NCAP rating. It's really well equipped.
Running costs
Hybrids are meant to be about fuel economy, and the RX 450h L returned a relatively respectable 36.8mpg, which means an annual fuel bill of around £1,875 – not bad for a big seven-seat SUV.
With its greater electrical assistance and EV range, the XC90 T8 managed 43.3mpg, which saves £282 a year (excluding cost of electricity) against the Lexus. And, if you plug in religiously and/or only do shorter trips then the Volvo's efficiency could rise further.
Testers' notes: "Lexus is known for its interior quality, and the RX L's materials and build are brilliant. Storage isn't quite as good as the XC90's, though, and the cabin just looks a little more dowdy."
Volvo XC90
| | |
| --- | --- |
| Model: | Volvo XC90 T8 Twin Engine R-Design |
| Price: | £66,645 |
| Engine: | 2.0-litre 4cyl + electric motor, 385bhp |
| 0-60mph: | 5.7 seconds |
| Test economy: | 43.3mpg/9.5mpl |
| CO2: | 52g/km |
| Annual road tax: | £455 |
The XC90 hybrid T8's credentials are well known – we've run one on our fleet – but this update has seen Volvo boost battery capacity, so let's see how it fares against the revised RX L. At £66,645 in R-Design trim, it's more expensive, but is it better value?
Design & engineering
Unlike the Lexus RX L, the Volvo XC90 comes with petrol and diesel engine options, all of them four-cylinder units. This T8 Twin Engine Hybrid version supplements its 299bhp supercharged and turbocharged petrol engine with an updated 11.6kWh lithium-ion battery driving an 86bhp electric motor on the rear axle.
Combined, the T8 puts out 385bhp, which is a significant chunk more than the Lexus. There's also more torque, at 400Nm, so in this 2,259kg package performance is strong for a big SUV, as we'll see.
Due to the XC90's bigger battery, it can receive charge by plugging into the mains (it takes two and a half hours using a 7kW feed, but a Type 2 cable for this costs £50; the standard three-pin plug will top up the battery in six hours) so it also has a much greater electric range – 28 miles in this improved version. The Lexus can only manage a few miles.
There are few other updates to the XC90, though, which is no bad thing, because it's an accomplished car. That means R-Design trim gets pretty much everything you'd want, although there are a few omissions that we'd like to see standard at £66,645.
For example, Apple CarPlay and Android Auto are part of a £300 pack. The updated Lexus now gets these as standard. Still, every other major item you'd need is included, so there are parking sensors and a reversing camera, some strong safety tech – as you'd expect from a Volvo – climate and cruise control, heated leather seats, LED lights, keyless operation, sat-nav and a full digital dashboard.
Quality is fine. Materials are good and the build is solid. Thanks to its layout, it feels more modern than the Lexus, and it's certainly more spacious.
Driving
With its extra power and torque, the XC90 was 1.9 seconds faster from 0-60mph. Although the Volvo does have a conventional automatic gearbox with eight ratios, we couldn't extract in-gear times from the car, as with the Lexus. But the Volvo's performance when you go to full-throttle and use the transmission's kickdown function is better than the RX's.
It went from 0-60mph in 5.7 seconds, compared with 7.6 seconds for the Lexus. From 30-70mph through the gears it had the measure of the RX L, too; the XC90 took 5.1 seconds, 1.1 seconds quicker.
But it also has a droney, grating engine note at higher revs. The twin-charged four-cylinder's note is coarse, which promotes a more relaxed driving style. Keep your throttle usage sensible (which should help efficiency) and the electric motor plays more of a part so the engine is less stretched and quieter.
The transmission isn't perfect, though. While it mostly shifts smoothly, occasionally it jerks as the car's brain tries to manage both power sources.
The ride has a similar character. In general, the XC90 deals with bumps deftly and there's a nice level of float to the chassis, especially on our car's £2,150 optional air suspension set-up. Yet sometimes potholes cause the wheels to thump aggressively back up into the arches. It's not too much worse than the Lexus on these occasions; it's just that the RX L is a little more comfortable a little more of the time.
Practicality
The XC90's third row of seats are more spacious (headroom particularly, since the lower roof in the Lexus restricts this) and practical compared with the RX L. You have to climb up a little higher to get into the Swedish SUV, but the roofline also means access to the back row is easier.
The middle-row seats slide and fold individually, so you can give people in the very back some extra legroom, or in five-seat form more space to middle-row passengers. Neither car's seat mechanism is that easy to work, but at least you can get into the third row from both sides of the car.
There's also more boot space in the Volvo. In seven-seat form the XC90 offers 262 litres, while this goes up to 640 litres in five-seat configuration, and with both back rows folded there's 1,816 litres in total. This is 40 litres less in each arrangement than a regular XC90, but much more than the RX L, so the compromise for buying this hybrid isn't too big.
Ownership
Volvo is known for its safety and the XC90 was the first model in the brand's line-up of next-generation products, which features lots of clever assistance systems.
As such, there's tech to help you avoid oncoming traffic, adaptive cruise that'll keep you in your lane, autonomous braking with collision, pedestrian and cyclist detection, plus lane-keep assist. If you want blind-spot detection, you'll have to spec the £500 IntelliSafe Surround pack, which also adds cross- traffic alert and AEB when in reverse gear. The XC90 matches the RX L's five-star Euro NCAP safety rating.
Running costs
The benefit of a plug-in is that the official CO2 emissions are much lower, so even though the XC90 is pricier, its 52g/km output is a lot less than the 138g/km Lexus.
It means the Volvo will cost a higher-rate earner £5,060 a year to run as a business user, whereas the Lexus will cost the same driver £7,824. Private buyers should benefit, too. Our depreciation experts predict the XC90 will retain 54.9 per cent of its purchase price after three years or 36,000 miles, losing £30,044. The LX is slated to keep 47.8 per cent, a loss of £33,097.
Testers' notes: "The XC90's charging flap is on the front left wing. Bear this in mind when parking to charge or if you have (or will have) a home charging point. A tethered point with a longer lead might be the best option."
Verdict
First place: Volvo XC90
It's worth paying the extra for the XC90 T8's plug-in capability because the efficiency potential and running costs advantages outweigh this for business users and private buyers. It's more efficient on paper and in the real world, while R-Design gets enough kit. It's a shame you have to pay for a few extras, but otherwise, the more efficient, more spacious XC90 is the more convincing hybrid seven-seat SUV.
Second place: Lexus RX
The new RX L is a little better. Connectivity advances have added to its appeal, but the infotainment system is still poor. The car is also slightly more comfortable and slightly better to drive. We can't fault the quality or kit, but as a seven-seat hybrid SUV, it's not as versatile as the Volvo when it comes to efficiency and practicality. However, it's still a usefully economical machine that's nicely refined.
Other options in this category
BMW X5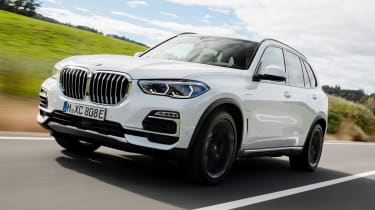 Model: BMW X5 xDrive45e M SportPrice: £66,665Engine: 3.0-litre 6cyl + e-motor
If you want a premium hybrid SUV (and we'd recommend a plug-in), your seven-seat options are quite limited; batteries tend to be under the boot, which rules out seven seats. The BMW X5 xDrive45e in M Sport trim has lots of efficiency potential, though.
Porsche Cayenne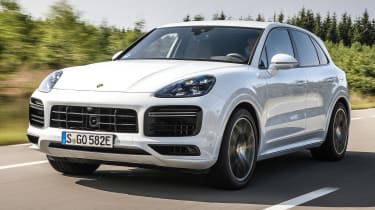 Model: Porsche Cayenne E-HybridPrice: £68,423Engine: 3.0-litre V6 + e-motor
The E-Hybrid is our pick of the Cayennes. It's only a five-seater, but fits the high-end image offered by Lexus and Volvo. The powertrain is nicely engineered and blends great performance with decent efficiency. The chassis offers strong handling and comfort.
Figures
| | | |
| --- | --- | --- |
| | Volvo XC90 T8 Twin Engine R-Design | Lexus RX 450h L Takumi |
| On the road price/total as tested | £66,645/£66,645 | £63,355/£64,025 |
| Residual value (after 3yrs/36,000) | £36,601/54.9% | £30,258/47.8% |
| Depreciation | £30,044 | £33,092 |
| Annual tax liability std/higher rate | £2,530/£5,060 | £3,912/£7,824 |
| Annual fuel cost (12k/20k miles) | £1,594/£2,656 | £1,875/£3,125 |
| Insurance group/quote/VED | 44/£400/£455 | 42/£511/£455 |
| Cost of 1st/2nd/3rd service | £330/£560/£330 | £295/£495/£295 |
| | | |
| Length/wheelbase | 4,953/2,984mm | 5,000/2,790mm |
| Height/width | 1,776/2,008mm | 1,700/1,895mm |
| Engine | 4cyl in-line/1,969cc | V6/3,456cc |
| Electric power | 1 electric motor | 2 electric motors |
| Peak power/revs | 385/6,000 bhp/rpm | 308/6,000 bhp/rpm |
| Peak torque/revs | 400/2,200 Nm/rpm* | 335/4,600 Nm/rpm* |
| Transmission | 8-speed auto/4wd | CVT auto/4wd |
| Battery/EV range | 11.6kWh lithium-ion/28.6 miles (WLTP) | 1.9kWh Nickel-metal hydride/N/A |
| | | |
| Fuel tank capacity/spare wheel | 70 litres/repair kit | 65 litres/space saver |
| Boot capacity (7/5/2 seats) | 262/640/1,816 litres | 176/432/1,656 litres |
| Kerbweight/payload/towing weight | 2,259/651/2,400kg | 2,205/635kg/N/A |
| Turning circle | 11.8 metres | 13.8 metres |
| Basic warranty (miles)/recovery | 3yrs (60,000)/3yrs | 3yrs (60,000)/3yrs |
| Driver Power manufacturer/dealer pos. | 13th/9th | 1st/1st |
| NCAP: Adult/child/ped./assist/stars | 97/87/72/94/5 (2015) | 91/82/79/77/5 (2015) |
| | | |
| 0-60/30-70mph | 5.7/5.1 secs | 7.6/6.2 secs |
| 30-50mph | 2.2 secs | 2.5 secs |
| 50-70mph | 2.9 secs | 3.7 secs |
| Top speed/rpm at 70mph | 140mph/1,800rpm | 112mph/N/A |
| Braking 70-0/60-0/30-0mph | 50.8/38.9/10.6m | 49.8/42.6/10.9m |
| Auto Express econ. (mpg/mpl)/range | 43.3/9.5/667 miles | 36.8/8.1/526 miles |
| WLTP combined | 80.7-113.0mpg | 34.4-35.7mpg |
| WLTP combined | 17.8-24.9mpl | 7.6-7.9mpl |
| Actual/claimed CO2/tax bracket | 151/52g/km/19% | 177/138g/km/31% |
| | | |
| Airbags/Isofix/parking sensors/cam | Seven/yes/yes/yes | 10/yes/yes/yes |
| Auto box/lane-keep/blind-spot/AEB | Yes/yes/£500^/yes | Yes/yes/yes/yes |
| Clim./cruise ctrl/leather/heated seats | Yes/yes/yes/yes | Yes/adaptive/yes/yes |
| Met paint/LEDs/keyless/pwr tailgate | £700/yes/yes/yes | £670/yes/yes/yes |
| Nav/digi dash/DAB/connected services | Yes/yes/yes/yes | Yes/yes/yes/yes |
| Wireless charge/CarPlay/Android Au | No/£300^/£300^ | Yes/yes/yes |
Get alternative views on the Volvo XC90 T8 and Lexus RX from our sister site DrivingElectric