Lotus awarded £10.44million grant
Lotus awarded £10m Government grant, but it's still not clear how the money will be spent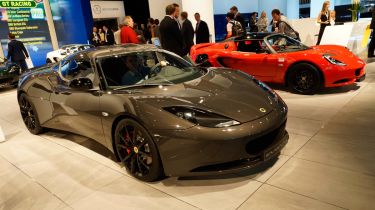 Lotus has been awarded a £10.44million grant from the Government's Regional Growth Fund, which will not only allow Lotus to develop new models but is expected to create more than 300 jobs over the coming years. 
In an official statement, Aslam Farikullah, COO at Lotus said: "This grant is part of a wider strategy for Lotus created to ensure we thrive and grow. We are responding to increased global demand for our cars and engineering consultancy services and this grant will help to position Lotus at the forefront of global automotive innovation.
"We have very exciting plans for our sports cars and it's a very positive move for Lotus that we're in a position to create new jobs and to significantly contribute to Britain's automotive industry."
The Regional Growth Fund itself is a £3.2billion initiative to create jobs and economic growth outside of London – the Hethel-based Lotus HQ is the perfect example. 
Vince Cable, Business Secretary, visited Lotus HQ this week, where he said: "The car industry is one of Britain's great success stories, employing over 130,000 people and helping to build a stronger economy by contributing £11 billion a year. The Government's industrial strategy is working and giving business the confidence to invest, creating more high skilled, long-term jobs in the UK."
The £10million grant is the latest in a series of investments in Lotus, with its new owners DRB-HICOM recently investing £100m in the company. The five-year, five-car plan that was developed under Lotus' ex-boss Dany Bahar has been canned, but it's still not clear whether the most advanced of the five cars slated to arrive – the Esprit – will ever make it to production. 
When we posed this question to Lotus, a spokesman told us: "There are a number of products that we have in our future product portfolio and we will not say either way whether an Esprit type car is in that portfolio. The sportscar, supercar and hypercar market is changing and we have to make sure that our future cars are relevant, desirable, technology led and most importantly adhere to Lotus' core DNA."
The short-term plan is likely to focus on producing variants of existing Lotus models such as the Elise, Exige and Evora. We've seen the Exige S Roadster and the Exige V6 Cup from Lotus recently.