Lotus appoints new CEO
Jean-Marc Gales has been named as the new Chief Executive Officer of Group Lotus plc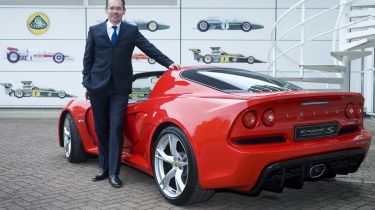 Lotus parent company Proton has announced the appointment of a new CEO – the Luxembourg-born Jean-Marc Gales.
Gales, a graduate from London's Imperial College, has previously worked in a number of senior automotive positions, including CEO at the European Association of Automotive Suppliers, and acted as a lobbyist with the European Parliament, helping to define the Industry Research & Innovation Strategy and Roadmap for 2025.
He was also President of Peugeot/Citroen Automobiles between 2009 and 2010, when the company delivered record sales and re-introduced the DS brand.
While it's never good to subdue ambition, it's fair to say that Lotus' fortunes took a sizable knock with the appointment of the massively optimistic Danny Bahar in the same role during 2009. Group owners DRB-HICOM, will be hoping that its new incumbent will provide a more steady touch at the helm.
There were rumours in 2012 that the company could be put into administration, following a plan to introduce five new road cars in as many years – none of which have yet seen the light of day. 
No doubt one of the first tasks for Gales will be to increase sales at the road car division. The company has never been known for big sales volumes, but has seen sales slide from 964 cars in 2003 to a feeble 256 last year. It will be a tough task; Lotus has not turned a profit since Proton acquired it back in 1996.
In tandem with these challenges Mr Gales will be responsible for looking after the fortunes of the highly respected subsidiary, Lotus Engineering, whose consultancy operations involve engineering and development projects for a number of manufacturers, as well as the Lotus Motorsport division.