Maserati Quattroporte (2004-2012) review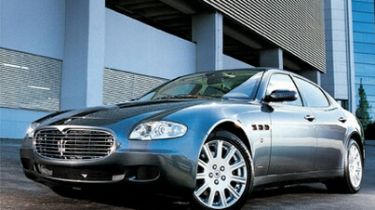 Quattroporte simply means four-doors in Italian, Maserati leaving no-doubts as to what its big saloon is with its nomenclature. It's not the first Quattroporte from Maserati, but with the company now rejuvenated under Ferrari's control it's undoubtedly a car that demands closer attention. The Pininfarina-penned lines are exquisite, the detailing and near infinite levels of personalisation by means of endless palette of colours means they'll all be different. Competing against the established luxury saloons the Maserati cannot hope to make a big impact in the sales charts, but with its striking good looks, individuality and emphasis on sporting ability it should have plenty appeal for those buyers wanting something a bit more practical, yet still exclusive, to sit alongside their supercar in the garage.
The interior is sumptuously appointed with leather everywhere, electric adjustment for everything and premium audio equipment. The seats offer great comfort for four and the boot is spacious, the expensive, optional tailored luggage maximising its luxury grand touring credentials. With a version of the 4.2-litre engine from the Coupe and Spyder under the bonnet performance certainly isn't lacking, but the standard fitment of the paddle-shift transmission is rather at odds with its luxury pretensions. It's fussy and hampers refinement. It's a similar story with the suspension, it's rather crashy, but otherwise there's a great deal to like about Maserati's striking big saloon.
Engines, performance and drive
0
MPG, CO2 and Running Costs
0
Interior, design and technology
0
Practicality, comfort and boot space
0
Which Is Best
Cheapest
Name

V6d 4dr Auto

Gearbox type

Semi-auto

Price

£73,830
Most Economical
Name

V6d 4dr Auto

Gearbox type

Semi-auto

Price

£73,830
Fastest
Name

V8 Trofeo 4dr Auto

Gearbox type

Semi-auto

Price

£125,010