Maybach (2003-2013) review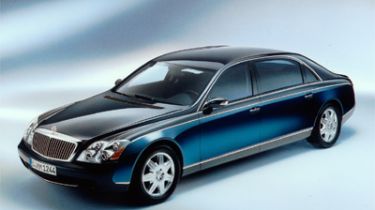 The Mercedes S-Class has become a victim of its own success, industry chiefs and third-world dictators now no longer able to assert exclusivity in the biggest of Benzes. For those elitists for whom only the best will do, Mercedes has solved their problem by resurrecting a long-forgotten name from Germany's history - Maybach. Everything about this car is mighty, its size, weight, specification and, of course, price. Two versions are offered - the 57 and the 62. Those numbers relate to the Maybach's length, just put a point in between them and you'll have the car's length in metres - for those that don't understand the metric system they might as well be called very long and very, very long indeed.
Don't expect to see many them, with a starting price of around a quarter of a million pounds only the extremely wealthy may apply. And that's before you start personalising it. The specification is vast, and infinitely variable to your specific needs - you even get a liaison manager as part of the package. With a 5.5-litre twin turbo V12 up front Jeeves will be able to turn this leviathan into quite a mover should you attract the wrong sort of attention, even when doing so it'll remain composed enough for you not to spill your champagne in the back. A pointless over indulgence for the majority, the Maybach appeals to the world's most demanding customers, the kind of people who own yachts, private jets and penthouses in the world's best postcodes, the kind of people for whom £250,000+ is small change.
Engines, performance and drive
0
MPG, CO2 and Running Costs
0
Interior, design and technology
0
Practicality, comfort and boot space
0