New Mazda 3 leaked
Pictures of the new Mazda 3 have been leaked, revealing a design inspired by the Mazda 6 saloon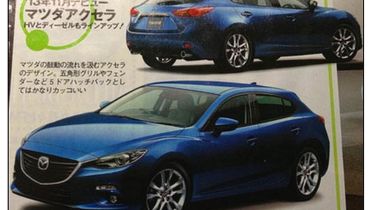 We've already seen the new Mazda 3 in design drawings and spy pictures, but now a Japanese magazine appears to have leaked the first official pictures of the Volkswagen Golf-rivalling hatchback.
The swept-back headlights, flowing in to Mazda's chromed shield grille help create a face that looks almost completely lifted from the latest Mazda 6 saloon. There's a sweeping bulge over the front wheelarch and a set of narrow taillights at the rear – all the latest trademarks of Mazda design.
• New Mazda 3: release date, price and rumours
In the cabin we're expecting a step-up in quality and design to help the 3 stay competitive with the latest Mk7 Golf. The driving experience will be tuned to fit with Mazda's 'jinba ittai' ideology – a Japanese phrase which means rider and horse feel connected. That'll mean tuning all the major controls, including the steering, to feel responsive and natural.
The latest Mazda 3 is set to get all of the fuel-efficient SkyActive innovations debuted in models like the CX-5 and 6. Greater use of high-tensile steel will help cut weight, while new economical engines fitted with stop-start will be offered. Expect to see a 1.6-litre diesel offering fuel economy of around 80mpg with CO2 emissions below 95g/km.
No details of pricing and release date have been revealed but we're expecting official details to be released during the next couple of months. A starting price of around £16,000 is likely, with the car on sale in the UK by the end of the year.