Mazda 6 coupe on way
Our exclusive image shows how the stylish new Mazda 6 coupe could look when it arrives in 2014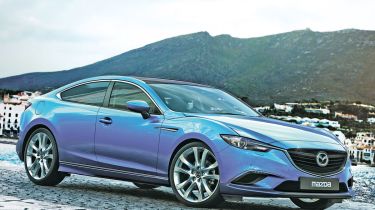 Mazda is planning to rival the Audi A5 with a stylish new three-door coupe version of the 6, Auto Express has learned. And it's likely to spawn a high-performance MPS model, too.
Our exclusive image shows how easily the latest Mazda 6's swoopy design translates into a coupe body, carrying over the range's 'wing' grille design and creases running the length of the body to create a muscular stance. It would join the saloon and Tourer estate to become the third member of the 6 family.
The coupe would act as a halo car for Mazda, which is precisely what the company wants for the new 6 range. At the Moscow Motor Show in August, program manager Hiroshi Kajiyama told us: "The CX-5 heightened the brand position. This car [the 6] has to raise it further again."
The most potent engine in the new range is currently the 173bhp 2.2-litre turbodiesel in the Sport. The saloon version does 0-62mph in 7.8 seconds. But an MPS would turn up the heat. When we asked Kajiyama about a new 6 MPS, he said: "There is a high potential for this, and it would be helpful to the brand."
The original 6 MPS, launched in 2006, was offered only as a saloon. It featured a 2.3-litre turbocharged petrol engine with 257bhp and four-wheel drive – and the new MPS coupe could follow a similar formula.
As the 6 shares underpinnings with the CX-5 SUV, a 4WD system would be easy to fit, while a turbo version of the new SkyActiv-G 2.0-litre petrol engine is the most likely candidate, with around 260bhp and strong economy.
Expect the 6 Coupe to arrive some time in 2014, with the MPS following a few months later.