Mazda 6 Tourer vs rivals
Mazda is going boldly into estate market as new 6 Tourer faces key rivals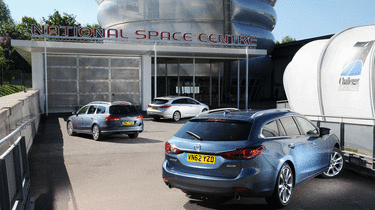 Space exploration has changed dramatically in the past decade, as organisations such as NASA and the European Space Agency have to count the pennies on every mission. Thankfully, today's family estates come with advanced fuel-efficient technologies that mean you can reap savings on every journey you take.
Mazda's new 6 Tourer has taken a giant leap forward using SkyActiv tech to cut costs without sacrificing performance. It also makes the top-spec Sport feel rocket-powered. The 6's rivals here also incorporate stop-start and energy-saving kit. VW's Passat Sport uses BlueMotion tech to improve mpg, plus its 2.0 TDI comes close to the 6 for performance. And while Hyundai's i40 Tourer can't match rivals' pace, it's efficient, and the top-spec SE Premium has lots of kit.
So which of our trio of spacious estates is a star turn? And which model is left on the launch pad?
Verdict
All three cars in this test have their strengths, offering bags of variety for buyers. The Mazda 6 Tourer is as involving to drive as its saloon brother, and it's superbly efficient, too, while the large boot means it's an obvious alternative if you need the extra space. The Volkswagen Passat has sporting pretensions, even if it can't keep pace with the Mazda, but it makes up for this by being the most practical car here. You just have to raid the options list to bring it up to the same spec as its rivals, which soon makes it look expensive. And then there's the Hyundai i40. It falls between the other cars for practicality, and it's loaded with kit. Yet it feels underpowered in this company, and isn't very exciting to drive. As a result, the 6 Tourer takes victory. It offers the best mix of economy, practicality, kit and performance in a sharp-suited package.