Mazda CX-3 first official sketch revealed
Mazda reveals first sketch of its Nissan Juke competitor and confirms LA show debut next month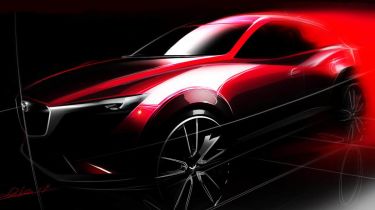 Mazda has given us our first peek at the new CX-3 SUV ahead of its debut at the LA Motor Show on November 19, with this official design sketch. And Mazda is so confident you'll like the CX-3 that it's skipped the concept phase and will jump straight to showing the full production model.
The CX-3 is the latest model in a recent product onslaught from Mazda, that includes the new Mazda2 supermini and the new MX-5 – both on sale in early 2015. Although the CX-3 is yet to be fully revealed it will tow the company line and use the same 'Kodo' design language as its bigger brother, the CX-5.
A three-dimensional, shield-shaped front grille links up neatly with the headlights, while a pair of bulging wheel arches form a wave-like line down the side of the car. From the sketch you can also see how the CX-3's roofline drops away quicker than the CX-5, outlining a sportier profile.
According to Mazda's short official release, "the essence of Kodo – the expression of life within a vehicle – has been evolved to produce a sharper form with an enhanced sense of speed." It also claims the CX-3 will feature "the full range of SKYACTIV technology,"
Expect the CX-3 engine range, therefore, to mirror the Mazda 2 it's based on with a 1.5 SKYACTIV-G petrol engine producing up to 113bhp, and a 104bhp 1.5 SKYACTIV-D diesel engine.
Also confirmed on Mazda's stand at the LA show are facelifted versions of the Mazda 6 and Mazda CX-5, along with a new 2.5 SKYACTIV-G petrol engine rumoured to be capable of producing up to 300bhp and a candidate for powering a hot Mazda 3 MPS in the near future.