McLaren 650S performance figures revealed
New 12C-based McLaren 650S is a second quicker than the McLaren F1 to 200 km/h
Take a McLaren 12C as a starting point, add styling and technology from the P1 hypercar and the new 650S is the result. Revealed here in coupe form, ahead of its debut at the Geneva Motor Show next month alongside a Spider version, the 650S slots into the line-up between the 12C and the P1.
Power from the 3.8-litre twin-turbo V8 engine has increased by 25bhp to 641bhp, while the torque has shot up from 600Nm to 678Nm. As a result the 0-62mph time has dropped by 0.1 seconds to 3.0 seconds, while 0-125mph now takes just 8.4 seconds – an improvement of 0.5 seconds. Despite this, McLaren claims CO2 emissions has been cut by 4g/km to 275g/km.
• McLaren confirms P1 Nurburgring lap time
This isn't merely a more hardcore stripped-out special. Instead of building something track-focused - such as the Ferarri 458 Speciale - McLaren has made the 650S faster, louder and more controllable when you want to cut loose, but also more comfortable and better equipped when you don't.
McLaren 650S - am I the only one who finds this seriously sexy? https://t.co/WqwDthEVP2

— Steve Fowler (@SteveFowler) March 4, 2014
The stark difference though is the new front end inspired by the P1 (both cars use the same headlights), a theme we'll see on future McLarens including next year's £120,000 Porsche 911 Turbo-rivalling P13. True to McLaren's obsession with engineering, the front end isn't just for show - it helps to create 40 per cent more downforce than the 12C at 150mph.
Engineers have been hard at work under the skin to broaden the 12C's range of abilities. To reduce body roll the springs are now 22 per cent stiffer, but thanks to new damper mounts McLaren claims ride comfort has simultaneously been improved. New clutch software supposedly makes the 650S smoother in auto mode, but also improves shift times in manual mode, while the brakes have been recalibrated to make them less 'grabby' at low speeds.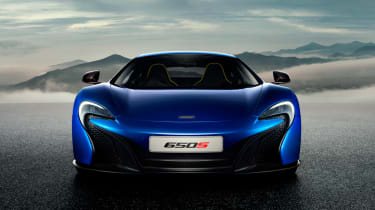 Other design tweaks include a new front splitter, the addition of 'door blades' to smooth out airflow behind the front wheel and larger side intakes to cool the engine. Four new colours are available too, along with higher levels of standard equipment – this includes carbon-ceramic brakes, sat-nav, DAB radio, forged alloys and full Alcantara trim as standard with a rear parking camera and carbon-fibre racing seats offered as an option.
Priced at £195,000 for the Coupe, and £215,000 for the Spider (around £20,000 more than the corresponding 12Cs) the 650S is available to order now, with first deliveries at the end of March.