McLaren 650S video review
The new McLaren 650S is a properly focussed drivers' car, thanks to some magic from the P1 hypercar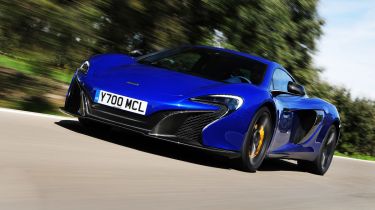 Revealed at the Geneva Motor Show in March 2014, the McLaren 650S' styling is certainly bold, especially with the striking new aurora blue paint. Available as either a coupe or a Spider, the 650S is undoubtedly inspired by the P1 as it gets the same McLaren logo shaped LED lights and carbon fibre front splitter as its bigger brother, plus new air blades on the bottom of the gull-wing doors that funnel air into the side vents.
McLaren also fits the 650S with forged alloy wheels - 19-inches at the front, 20-inches at the back - that are fitted with even grippier Pirelli P-Zero Corsa tyres as standard. Factor in the enormous yellow coloured carbon ceramic brakes, and the 650S certainly looks the business.
The 650S can also be specced with a carbon fibre rear-bumper which is influenced by the one found on McLaren's GT3 racing car.
Given McLaren's illustrious history in motorsport, the performance of the 650S is astonishing. It has 627bhp and reaches 0-62mph in just three seconds. Its top speed is 207mph and it takes just 5.7 seconds to reach 100mph - just 0.7 seconds slower than the P1 which packs 727bhp.
Despite being excellent on the track as expected, the McLaren 650S is surprisingly refined for a car of this type. The dampers fitted are similar to the ones fitted to the P1 and are the result of a year's development by McLaren.
While the cockpit is similar to the outgoing McLaren 12C, the 650S is much more comfortable and every car comes with an Alcantara steering wheel, plus more Alcantara on the dashboard and roof lining. However, leather trim is an option, as are the completely carbon fibre seats which save about 15kg.
Despite being comfortable and refined, the McLaren 650S doesn't let you forget its an incredibly quick car. As soon as the turbo kicks in, above 3,500 rpm you just disappear up the road and happily, it retains the almighty acceleration of the 12C.
In short, the McLaren 650S is better in every way than the 12C. Just don't expect it to feel playful - it's a serious driving tool.