McLaren reveals hardcore 650S Sprint
Track-ready 650S has stripped-out cabin, trick chassis tech and more downforce but sadly isn't legal for street use
For McLaren enthusiasts who find the 650S a little tame and missed out on the P1 hybrid hypercar, McLaren has dreamt up the 650S Sprint. A track-only version of the new 650S supercar (and following on from the old 12C Sprint racer) the 650S essentially adds racing-spec downforce and lightness to the 641bhp coupe, without the pesky drawbacks of engine and chassis regulation.
At its core, the 650S sprint uses the road car's MonoCell carbon tub, reinforced with a roll cage. The driver is strapped into a racing seat, ahead of the completely spartan, all-carbon dashboard. Only air-conditioning is retained as a nod to comfort, and a fire extinguisher is now standard-fit.
Like the fully-fledged 650S GT3 racer, the Sprint uses a quick-fill fuel cell, enhanced cooling with bigger intakes and radiators, and gets a mean aerodynamics package. The pop-up airbrake has been binned in favour of a fixed rear wing, while the front splitter sprouts an extended lip to cleave the on rushing air.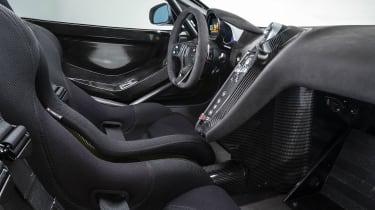 Powering the rear-drive 650S Sprint is the familiar twin-turbo 3.8-litre V8 that sits at the heart of every McLaren road car. In 650S tune it develops 641bhp and 678Nm – McLaren claims that despite the more hardcore brief, the track-only Sprint "loses none of the refinement and balance found in the road car."
Unlike the 650S GT3, which has to comply with strict FIA regulations, the Sprint keeps its ProActive Chassis Control active suspension system, and its BrakeSteer gadget which pinches the inside brakes on corner entry to pivot the 650S sharply into the turn. Race-spec add-ons you won't find on the regular 650S's options list include an on-board air-jacking system for fast pit stops, 19-inch centre-lock wheels, slick Pirelli tyres and a weight-saving polycarbonate windscreen.
If the 650S Sprint sounds like your sort of track day toy, you'll need to fork out £198,000 – that's £2750 more than its numberplate-wearing sister. It'll be seen first at the Pebble Beach Concours show later this month, where the Sprint will have its work cut out trying to upstage the new McLaren P1 GTR.