McLaren 650S GT3 revealed
McLaren GT unveils new 650S GT3 racer at the Goodwood Festival of Speed, the latest evolution of the 12C GT3
McLaren's GT division has taken the wraps off its latest track-focused racer at the Goodwood Festival Speed, the 650S GT3.
It'll cost £330,000 before tax and is set to enter production this autumn, arriving towards the end of the year in time to compete in 2015 GT3 championships.
Based on the road going 650S, and underpinned by the same lightweight carbon fibre MonoCell chassis, at first glance McLaren's GT3 variant doesn't look all that different. It's clearly lower to the ground, and the massive fixed rear wing is a big giveaway, but up front the Woking-based manufacturer's latest design language also sees a few revisions, including a distinctive splitter and larger air intakes.
These features are intended to offer improved aerodynamics and better cooling, which is why the flanks feature revised vents as well, whilst the all-new lightweight carbon fibre bodywork doesn't match up directly with the 650's outline.
Elsewhere there are changes to the suspension geometry, a slightly wider track – 52mm more than the 12C GT3 – and updates to the overall set-up, all with an apparent emphasis on endurance racing.
Such innovations are partially there to compensate for a drop in performance over the standard production car. FIA regulations mean power is limited to approximately 493bhp, the same as McLaren's current GT3 offerings, meaning the 3.8-litre twin-turbo V8 produces 148bhp less than in the 650S.
A bespoke ECU is designed to compensate for this, offering better turbo boost integration and transmission shift control, and there's a new six-speed sequential motorsport transmission, too.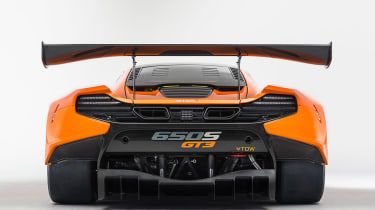 The track focus continues at wheel level: the 650S GT3 rides on recently designed forged aluminium rims that are held in place on the motorsport axles by a single wheel retaining nut, and McLaren has fitted a newly-developed braking system to help keep things on the straight and narrow.
As part of the improvements, safety has been given a boost thanks to an FIA-approved rollcage that's lighter and more spacious than the one found in the 12C GT3.
McLaren's attempts to make the cockpit a little more comfortable have likewise resulted in moulded race seat inserts that are mounted directly to the chassis, so that the driver adjusts the steering wheel and pedals to get settled into place. Backing this up is a redesigned layout that is apparently easier to use, plus a six-point race harness as standard.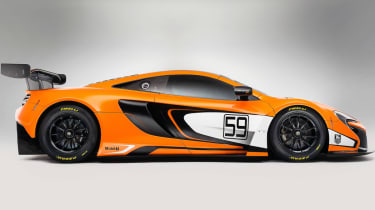 Durability was also a key focus during development, and it's claimed the 650S GT3 will cost less to own than its predecessor, thanks to a reduction in costs, increased component lifecycles and shorter repair times.
Given how appealing this all sounds, it's no surprise that 12C GT3 owners will offered the chance to add upgrades and enhancements fitted to 650S GT3 models, as they share the same underpinnings. This is similar to the offer made to 12C owners when the standard 650S launched, and McLaren predicts such an investment will allow 12C GT3 cars to race competitively through a second GT life cycle.
Only around 15 examples of the all-new 650S GT3 are set to be built, although the optional upgrade package for 12 GT3 owners could see up to 30 cars running the latest McLaren GT design from next season.
Click here for our live Goodwood Festival of Speed coverage...