McLaren joins forces with Specialized to build new £7.5k Roubaix race bike
McLaren has used its carbon fibre and aerodynamic expertise to help in the creation of the Specialized Roubaix 2017 race bike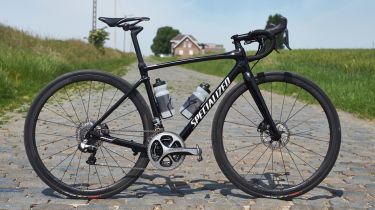 The engineers at McLaren have a long history of motoring innovation, but lately the firm has turned its attention towards vehicles with considerably less horsepower usual. In its latest partnership, McLaren has taken the equipment and knowledge from the design of the P1 hypercar and used it to help Specialized design its latest carbon-fibre race bike.
"Taking precise measurements is something we've been doing in F1 for a long time," says Duncan Bradley, design director at McLaren Applied Technologies. "You need to be able to understand every part of a full system before you know what changes to make in something as complicated as a car or a bike. We went a little bit  further than just collecting data, as data without insight is useless, so we built a computer model of a bike and rider."
The beauty of a computer model is that it can measure and replicate thousands of different inputs and component changes without the need to manufacture anything. The Roubaix project was remodelled 'virtually' more than 2,000 times, which meant that just six physical prototypes were required to bring the design to fruition.
"Our model is unbelievably complex and it generates information that's accurate to the real world," says Caleb Sawade, lead simulation engineer at McLaren. "We can change the stiffness of a steerer tube and see what effect that has on the torque in a rider's elbow. We used a chassis dynamics rig to see how vibrations come through the bike to the rider. We used our wind-tunnel to match it with aerodynamic data, then added in the data from the tyre lab to find out what effect it has on comfort and rolling resistance. All of this fed into the model and increased the accuracy."
The outcome? A 6.8kg full carbon race bike that's 1,000% more comfortable than the outgoing model, all thanks to the FutureShock – a steerer-mounted suspension unit that's so sensitive 'if it runs over a piece of paper, it will move'. 
To read more visit our sister site Cyclist…