1955 Mercedes-Benz 300 SLR sells for world-record £114million
Mercedes parts company with its 180mph 300 SLR Uhlenhaut Coupe for world record fee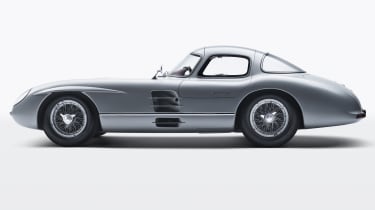 1/6
The world record for a car sold at auction has been smashed thanks to Mercedes-Benz selling its 1955 300 SLR Uhlenhaut Coupe - just one of two in existence. 
At an invitation-only auction at the Mercedes-­Benz Museum in Stuttgart, the ultra rare 300 SLR's opening bid started higher than the previous record of $48.4million (£38.8million) for a 1962 Ferrari 250 GTO that was sold back in 2018. 
The final bid of €135million (£114.5million) by a private collector meant the 300 SLR Uhlenhaut Coupe became not only the most expensive car ever, but one of the top 10 most valuable items to have been sold at auction.
It's not just rarity that makes the 300 SLR Uhlenhaut Coupe so sought after, it has a rich history as well. Only two cars, both prototypes, were built by the Mercedes-Benz racing department in 1955. 
They are based on the legendary two-time Grand Prix World Championship-winning W 196 R, piloted by Juan Manuel Fangio. The SLR's engine was enlarged to 3.0 litres for sports car racing, and is rated at 302bhp. This allowed for a top speed of 180 mph and a 0-62mph time of 6.9 seconds, making it one of the fastest road legal cars of the time. 
The name comes from creator and chief engineer, Rudolf Uhlenhaut, who drove this car to European events, although it has been kept in storage for most of its life, covering just 3,756 miles. The car sold was also nicknamed 'Red' for its upholstery, while the other car, on museum display, is nicknamed 'Blue'. 
The proceeds of the sale will be used to establish a worldwide 'Mercedes-Benz Fund' that will provide educational and research scholarships in environmental science and decarbonisation for young people.
Now for the other end of the scale - check out the cheapest cars on sale here...