"Mercedes takes Tesla's lead with new electric car charging network"
With the Government failing to improve the UK's charging network, editor-in-chief Steve Fowler is pleased to see Mercedes take matters into its own hands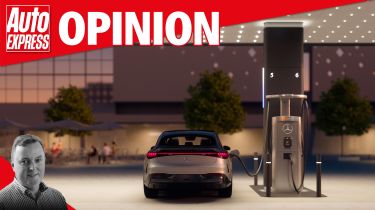 While most car makers constantly call on the Government to raise its game when it comes to supporting the charging network, I've long thought that the manufacturers themselves should take more responsibility – especially if it means more sales. After all, the industry's trade body, the SMMT, only this week admitted that the public charging network is the biggest barrier to EV ownership.
Tesla has long reaped the rewards of having its own network of Superchargers; it's one of many reasons so many Teslas are bought each year (numbers one and two in the EV sales chart in 2022).
Clearly that isn't lost on Mercedes, which has just made the significant announcement of plans for a network of 10,000 chargers around the world by 2030. "To accelerate the electric transformation, we need to ensure the charging experience keeps pace as well. We won't take a wait-and-see approach. That's why we are launching a global high-end charging network," said Mercedes boss Ola Källenius.
What about other car manufacturers? Jonathan Goodman, UK boss of fast-growing Polestar told me, "It's something we're watching closely, but would be more difficult for us as a start-up, especially with investments we're making in clean production facilities and advanced new platforms. We'd like to see government do more to support the growth of the charging network, and perhaps the oil companies should be stepping up, too."
As Goodman points out, the Government doesn't seem to be falling over itself to help out. Planning for new EV charging sites, for example, is a big issue and something he thinks should be relaxed.
However, as with so many things Tesla does, others have followed. I'm hoping it won't be long before Tesla's and Mercedes' rivals realise having their own charging network helps to sell cars – and make even more money.
Click here for our list of the best electric cars on sale...