Mercedes EV charging network to roll out in Europe this year
Mercedes plans to rival the Tesla Supercharger network with new high-power EV charging stations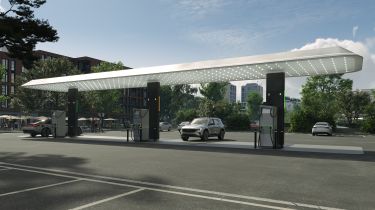 While most manufacturers are broadening their portfolio of electric cars, Mercedes is aiming to go one better by opening its very own infrastructure of EV charging stations. 
This idea has already been implemented to great effect by Tesla and its Supercharger network, and just as Supercharger stations are increasingly being opened up for use by other vehicles, you won't need to have a Tesla (or a Mercedes in this case) to use it. 
Mercedes says the first of its new electric car charging stations will open in Autumn this year in America, China and Germany. By the end of 2024, the German giant says it will have over 2,000 fast chargers ready to go. By the end of the decade Mercedes hopes to have 10,000 charging points across 2,000 hubs. 
Depending on the location, each hub will have between four and 30 fast chargers. Charging speeds are said to accommodate up to 400kW rates and Mercedes also says it will focus on making sure customers using its hubs will have a "premium, sustainable and reliable charging experience." 
Mercedes drivers will be able to use the MercedesMe service to pay for their charge and will even be able to reserve a slot at a charging station. Charging stations will also be integrated into route planning of Mercedes vehicles to highlight the most efficient way to charge. 
Unlike many current charging stations, Mercedes says its hubs will have a roof, food outlet, toilets, security cameras and lights to aid charging convenience and safety. 
Speaking to Auto Express, Chief Technology Officer of Mercedes-Benz, Markus Schäfer said, "Every Mercedes charging hub will be powered by green energy. The first of these hubs will be in North America as we aim to roll out the infrastructure to Europe this year." 
Owners of other car brands won't be left out either. "Non-Mercedes owners will have availability of the chargers, but we will work on separate pricing - Mercedes owners should get benefits", says Schäfer. This should mean a preferential rate will be offered to Mercedes drivers to use the firm's charging stations. 
Mercedes says the investment in the North American network will exceed 1 billion euros (roughly £883m) over the next 6-7 years. Mercedes' current partnership with charging provider Ionity will continue however. "We're happy with being a shareholder of Ionity and we will continue to push Ionity-branded hubs in the future", Markus Schäfer told us.
Now read more about the upcoming Mercedes EQ saloon...