Tesla Superchargers: who can use Tesla's charging stations and how do they work?
Tesla has created its own charging network, but who can use the Superchargers and how do they work?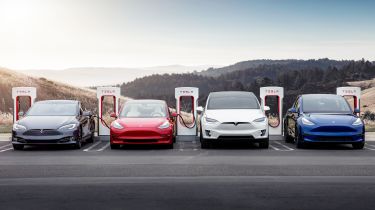 Tesla cars like the Model S, Model 3 and Model Y are now common sights on UK roads. Private owners and businesses alike looking to move away from petrol or diesel powered cars, reduce their carbon footprint, or take advantage of tax benefits have bought Teslas in huge numbers.
A big part of the brand's appeal, however, goes beyond the cars themselves and is rooted in the network of Tesla Superchargers that helps combat EV range anxiety for owners. With the once-private Supercharger network now open to owners of other electric cars, we've got all the info on how Superchargers work and who can use them. 
Tesla was unique amongst car manufacturers in investing heavily to create its own charging network of Superchargers, providing added convenience for owners of its cars who travel long distances or can't charge at home. And with concerns around charging being a main reason why car buyers hesitate when switching to electric, the supercharger network proved to be a key selling point for Tesla, fueling its prodigious growth. 
Tesla Superchargers, also known as 'stalls', have become a common feature at motorway service stations and other locations around the UK road network, with many electric car drivers even wondering what they are and how they work. Thankfully, we have the answers to all these questions and more below.
What is the Tesla Supercharger network?
There are a variety of rapid charging providers in the UK - from energy giants Shell and their Shell Recharge stations, to GRIDSERVE and Instavolt - which are all helping expand the public EV charging network.
Tesla has invested a huge amount of money and resources into creating its own infrastructure and charging network for its vehicle owners – with the specialist EV manufacturer having installed over 1,000 Superchargers in the UK and Ireland since 2014. That makes it one the most expansive EV charging network providers in the country.
Tesla operates two different types of electric car chargers. Destination and Supercharger. Destination chargers are installed at locations where people are most likely to spend a longer period of time, such as hotels or venues. The Supercharger network allows drivers to rapidly charge along the UK's major road network and be on their way.
Can I charge my car using a Tesla Supercharger?
Until recently, the Tesla Supercharger network was exclusively available to Tesla owners, however, May 2022 saw one of the biggest changes come into effect in the UK's rapid charging network when Tesla opened its network up to non-Tesla drivers.
This is only a pilot arrangement, but at the time of writing, 25 supercharging sites are now open and available for any electric car driver to use. You can find details of how to find the public sites below or by visiting the Tesla website.
Tesla's newest V4 Superchargers are available for any Tesla and non-Tesla drivers to use, with power delivered up to 250kW.
Can any non-Tesla car use a Tesla Supercharger?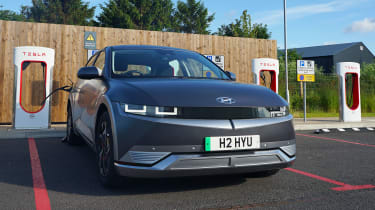 Only electric cars fitted with a CCS-type plug can use a Tesla Supercharger, while Destination chargers use a standard Type 2 connector, which should be compatible with most electric cars. A CCS plug is a standard Euro-spec connector that combines two DC pins arranged below the Type 2 connector, allowing for fast charging. The majority of electric cars should be compatible, but there are exceptions such as Nissan Leafs using CHAdeMO connectors, some Lexus models and early versions of the Renault Zoe.
What type of connectors do Superchargers use and what are the charging speeds?
Tesla Superchargers operate two different power ratings of chargers in the UK with the V2 and V3 providing power outputs of 150kW and 250kW respectively and are only offered with a CCS connector. The new V4 chargers can supply power up to 250kW.
Partnership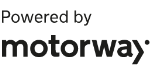 Need to sell your car?
Find your best offer from over 5,000+ dealers. It's that easy.
Destination chargers aren't as quick, typically between 7-22kW, as they are intended to charge cars over a number of hours as opposed to the high powered Superchargers.
It must be noted that the V4 Superchargers are currently only available at Tesla's Tottenham dealership, although will eventually be rolled out to Tesla charging stations across the UK.
How do I find a Tesla Supercharger?
If you own a Tesla or have a Tesla model currently awaiting delivery, the built-in sat-nav will be able to guide you to the nearest Supercharger when you need to top-up. If you have a different make of car, you'll have to do a little bit of research.
Firstly, you'll need to download the Tesla app, as V2 and V3 Supercharger units don't accept card or contactless payments (or even have screens), so all charging and payments will have to be done via the app. The newest V4 Superchargers, however, look slightly different to the V2 and V3 counterparts – having a more discreet design, as well as featuring a digital screen which allows for contactless payments, as well as providing a QR code for digital receipts. The V4 chargers can also be used through the Tesla app.
Once you've downloaded the app and are ready to charge, choose the 'Charge my non-Tesla' button and locate the site you're at. The app will then be able to give you more information about the location such as facilities, prices and number of available 'stalls'. 
Do bear in mind that only a select number of Tesla sites are currently available in the pilot scheme and they will only work with CCS-equipped cars, so Nissan Leaf models using CHAdeMO, some Lexus models and early Renault Zoe's won't be able to be charged using a Supercharger.
How do I charge my car?
If you own a Tesla, you simply reverse into a bay, plug the connector into the car and the charging session will start automatically because the charger will be able to detect and figure the car out. However, if you don't have a Tesla, things are a little more complicated.
Plug the connector into the car. This may be a little trickier for some cars than for than others, as Tesla chargers are designed for use with cars that have charging ports at the back on the passenger side - you may have to park a little creatively should your charging port be in a different location.
Select your charger number on the app. This number and letter should be written on your chosen Supercharger stall and is usually found at the bottom. Once selected, press 'Get Started' in the app. You will be directed to a payment page where you enter your card details. Once completed, press 'Ok' and the charging session will begin. 
Keep an eye on the app. Should there be any issues with the charging session it will tell you but connecting could take up to two minutes.
To finish a charge, press 'Stop Charge'. The session will end. Return the connector to the unit and you're all done. You can continue with your journey.
How much will it cost?
Tesla owners will automatically have access to the lowest Supercharging prices per kWh (kilowatt hour) and seamless car and charge post integration. 
Non-Tesla owners who want to access the 'open' Supercharger stations frequently can sign up to a membership scheme for around £11 a month. This offers access to lower charging prices per kWh. 
Drivers of other makes of electric vehicles can also charge without a subscription, but this will be at a costlier rate per kWh. Prices will vary from site to site, too.
Tesla's newest V4 rapid chargers have prices set from 50p per kWh.
What sites are available to use for non-Tesla drivers?
Since the pilot scheme launched, Tesla has added more locations for use by non-Tesla drivers. At the time of writing they are…
Region:

Supercharger locations:

London, the South and South East

Dorking

Folkestone Eurotunnel (France bound only)

Guildford

Grays

Heathrow

Romford

Sidcup

Thurrock

Tottenham (V4)

Uxbridge

Wokingham

Cambridgeshire/Oxfordshire and the Midlands

Banbury

Merry Hill, Birmingham

Thetford

Trumpington

Wales

Aberystwyth

Cardiff

Carmarthen

Flint Mountain

Newport

The North

Adderstone

Harrogate

Manchester Trafford

Scotland

Aviemore

Dundee
Think an all-electric car is the right fuel type for you? Click here to discover the best electric cars currently on the market…