Mercedes marks 120 years on track with epic Goodwood sculpture
Mercedes' Goodwood Festival of Speed sculpture marks 120 years in motor racing with a bang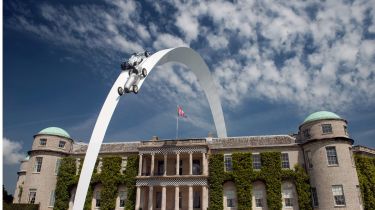 Mercedes is celebrating 120 years of motorsport heritage in style at this year's Goodwood Festival of Speed. As if sponsoring the 2014 event weren't enough, the German manufacturer has further made its mark in West Sussex with a 160 tonne, 90 metre long steel sculpture.
Officially unveiled this evening by Lord March and Mercedes-Benz Classic boss Michael Bock, the curved design spans a distance of 45 metres and straddles Goodwood House, clearing the four hundred-year-old country pile by 26 metres.
• Best cars at Goodwood Festival of Speed 2014
It's the brainchild of artist Gerry Judah, who described the design as pushing "the limits of what is possible with size and complexity in engineering".
Crossing paths on the arch are two Mercedes, a replica of the 1934 W 25 Silver Arrow raced to victory by Manfred von Brauschtisch at the Nurburgring Nordschleife Grand Prix, and one of Lewis Hamilton's 2013 Formula 1 cars. Separated by 80 years, together they represent the marque's first and last eight-cylinder Grand Prix racers, with F1 adopting V6 hybrids for the 2014 season.
• Goodwood Festival of Speed 2014: live
Commenting on the structure at the unveiling ceremony, Goodwood founder Lord March said: "This year's Central Feature is the most architecturally and artistically challenging sculpture that we've ever had at Goodwood and it's a testament to the out-of-the-box thinking of Gerry Judah, which is very much aligned with our philosophy of constant innovation around the Festival of Speed."
A fireworks display accompanied the evening reveal, and there was also a procession of Mercedes road and track cars, which made their way up the Goodwood Hill in the near darkness. This collection ranged from a century-old Grand Prix car to the slightly more recent SLS AMG Black Series, and included an SSK from 1928, the 1955 W 196 R and a Sauber-Mercedes C9 from 1989.
How does the 2014 Goodwood sculpture compare to previous years' efforts? tell us your thoughts in the comments section below...