Mercedes plots three-cylinder diesel engine
Exclusive: Modular engine range in new E-Class could lead to efficient three-cylinder diesel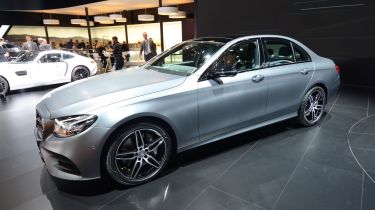 Mercedes has expressed an interest in introducing downsized three-cylinder engines as part of its new modular diesel family, Auto Express can exclusively reveal.
Bosses at the company had previously ruled out launching the three-cylinder turbo due to concerns surrounding refinement. However, the new modular diesel which debuted in the new E-Class as a 2.0-litre four-cylinder could be developed to overcome this issue.
"Diesel is our weapon for the future, to help us reduce CO2 emissions," Bernhard Heil, head of powertrain development at Mercedes, told Auto Express. "We will see different variants of the four-cylinder, you will see a lot more to come, but you will also see more cylinder numbers.
"We could also derive a three-cylinder from this [engine] family, no doubt. It could be an option – because in future there might come electrification where it might make sense to have a three-cylinder. Depending on the installed electric power, you could avoid [having to fit] an additional balancer shaft."
Heil also hinted that following the introduction of the modular diesel engine family will be a modular petrol engine range, too. "I don't want to tell the entire story," he added, "but if we are talking about an engine family that covers all our engines for our C-Class, B-Class, S-Class and M-Class [GLS] cars, and all that stuff then…"
Mercedes has invested over 2.6billion Euros (£2.01billion) in development and production of its new modular diesel engine family, plus 500million Euros (£388m) in a new lithium-ion battery factory in Germany.
Bosses also confirmed a new plug-in hybrid diesel will be introduced to the E-Class range, to sit alongside the petrol-electric E 350e.
What do you think of Mercedes' three-cylinder engine plans? Let us know below...