Mercedes S300 Hybrid review
Diesel-electric hybrid Mercedes S300 luxury limo promises amazing efficiency
It seems Mercedes can't fail when it comes to the S-Class. With the smaller-capacity diesel and hybrid motor, the S300 is as refined and accomplished as any of its six, eight or 12-cylinder stablemates. If you plan to drive the car yourself, opt for the smoother S350 with the 3.0-litre six-cylinder V6 diesel. If running costs are key, the S300 BlueTEC Hybrid is a fine option.
The new Mercedes S-Class is already a byword for luxury and comfort, and now the S300 BlueTEC Hybrid can add class-leading efficiency to that list.
It's the second hybrid in the S-Class range, alongside the S400 Hybrid L, and it's powered by a 201bhp 2.1-litre four-cylinder diesel and a 27bhp electric motor – essentially the same set-up as in the E300 BlueTEC Hybrid. For a car crammed with this much tech and weighing over two tonnes, Mercedes' claim of 61.4mpg and CO2 emissions of 120g/km is seriously impressive.
The hybrid squeezes out an extra 10mpg over the 3.0-litre V6 diesel S350, but does add eight-tenths to the 0-62mph time, at 7.6 seconds. Yet the car will still whisper up to the same 155mph. In the S300 the normally gruff four-cylinder diesel is more muted, with virtually no intrusion into the cabin. In fact, if you're gentle with your right foot you can pull away silently on electric power alone.
Considering the size of the S-Class it handles remarkably well, with light but direct steering and the rear-drive set-up giving the agility of a much smaller car.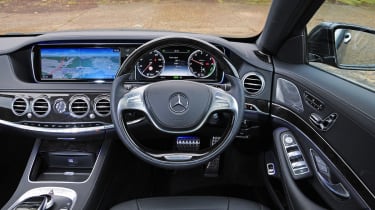 As a four-cylinder diesel the S300 Hybrid was never going to be as silky smooth as the S350 V6, but it's still effortless in its delivery. However, with this powertrain the S-Class loses none of its refinement or road manners, and standard air-suspension makes the ride delightfully supple.
Mercedes has cut no corners when designing the cabin, as is demonstrated by the copious use of leather, wood and aluminium – although our car's £31,000-worth of options do help. The executive rear seat and comfort packs allow passengers to recline up to 37 degrees while enjoying a soothing massage.
The S300 Hybrid commands around a £2,000 premium over the S350, and you'll sacrifice a little performance. However, the striking improvement in efficiency should still appeal to even the most well heeled buyer.