MG curbs petrol car orders due to "short-term" supply issues
British brand suggests its dealers should instead encourage electric and hybrid models to prospective petrol MG buyers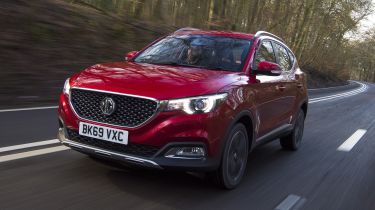 MG has cut back sales of its new petrol models temporarily in response to ongoing supply problems that are limiting the availability of its combustion-powered cars.
According to an MG spokesperson, the British brand is experiencing "short-term" issues affected by factors like the ongoing semiconductor shortage. In turn, this means the company has had to limit the number of petrol-only MG models its dealers are able to sell to customers.
The MG representative explained: "We have seen a very strong start to 2022 with a lot of demand for our new cars, which has led to some short-term delays in the supply of certain models, so our dealers are being asked to only place orders for vehicles in the existing supply pipeline."
They went on to describe reports of MG's 2022 allocation of petrol-only models being sold out as "untrue", pointing out that "like every manufacturer, we try our best to forecast future demand and order stocks accordingly".
The "existing supply pipeline" cars aren't part of MG's current dealer stock, but are instead cars that have already been ordered and are due to be shipped to the UK. This does at least mean MG customers who ordered a petrol model before the restrictions came into effect won't have their order cancelled, even if their car hasn't been built yet.
Exactly how long these supply-related issues will carry on for remains to be seen. According to a retailer bulletin seen by AM Online, though, MG Motor UK's commercial director Guy Pigounakis has suggested: "Whilst on one hand we are all celebrating the unprecedented success we are enjoying, we cannot carry on accepting orders that in all likelihood will see delivery dates stretching out to early next year."
With MG's petrol-only cars now in limited supply, the company is now encouraging its dealers to instead suggest its prospective new MG buyers its hybrid or fully electric models instead. Pigounakis is also said to have reassured.
MG retailers with limited or no pipeline orders that "special actions" are being taken to ensure they can keep pace with their respective customer demand. Even though MG has steadily increased its portfolio of pure-electric cars, with models like the MG5 EV estate, the updated MG ZS EV SUV and the forthcoming MG4 family hatchback, combustion-powered cars still make up a sizeable chunk of its sales in the UK.
A full breakdown for 2021 hasn't yet been announced by MG, although the brand did confirm in July last year that pure-electric cars accounted for 31.4 per cent of its UK sales for the first half of 2021 – meaning more than two-thirds of its sales were petrol-only or hybrid vehicles.
Check out the what happened when we tested the MG5 EV against the Volkswagen ID.3 here...