Convertible of the Year 2021: MINI Convertible
The MINI Convertible is the 2021 Auto Express Convertible of the Year, with the Audi A5 Cabriolet and Mazda MX-5 commended
Another year and it's another win for the fun-loving MINI Convertible. It's the fourth victory in a row for the brilliant British drop-top, which continues to provide a compelling blend of fun, value for money and wind-in-the-hair thrills.
With a fabric roof that can be lowered in just 18 seconds and at speeds of up to 19mph, the MINI allows you to make the most of any bursts of sunshine, and with the hood in place the Convertible is almost as snug and refined as the MINI hatch.
Better still, a recent update has sharpened the MINI's lines, with new bumpers front and rear giving the car an even more purposeful stance. Inside, the rear seats are still cramped, but quality has been improved and the eight-inch touchscreen gets enhanced connectivity and crisper graphics. There's also a digital instrument pack that helps bring the Brit baby up to date.
What remains unchanged is the model's huge appetite for fun. Its quick steering and acrobatic agility will leave you grinning from ear to ear when tackling a favourite back road. Yes, the ride is a little firm, but it's a small price to pay for the MINI's fun-loving driving dynamics.
For ultimate high-octane thrills there's either the 228bhp MINI JCW flagship or 175bhp Cooper S, but for most the 134bhp 1.5-litre Cooper delivers the best blend of performance and economy. However, all versions are affordable to run, with decent fuel economy and low emissions, plus the availability of great-value MINI service packs.
On this evidence the MINI is going to take some beating in this category. Best Convertible again in 2022? Don't bet against it.
Best deal
MINI Convertible Cooper Sport (£26,005)
In hatchback form we'd strongly recommend one of the sportier options, but the standard Cooper model offers more than enough fun with the roof down. Sport trim adds an eye-catching bodykit and uprated dampers; expect to pay £340 per month on a three-year PCP deal with £2,600 put down up front.
Commended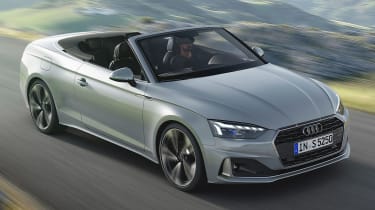 If you want to bring the family along for some fresh-air thrills, then the A5 is a great choice. There's room for four in its beautifully finished and well equipped interior, while refinement is almost coupé-like with the roof up. There's also a great range of engines and Audi's latest infotainment boasts excellent connectivity.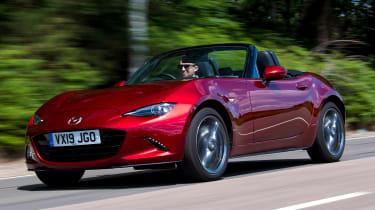 The world's best-selling roadster remains as brilliantly appealing as ever. The purity of its front-engined, rear-wheel-drive layout means it's hugely involving to drive, while its rorty naturally aspirated engines serve up a fine blend of performance and economy. It also looks great and is packed with kit.
New Car Awards 2021: the winners
Special edition of Auto Express
For the full experience, make sure you pick up a copy of our special New Car Awards collectors' edition of the Auto Express magazine, which is available in shops now.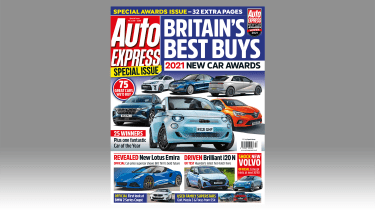 You can buy individual issues of Auto Express or subscribe for even bigger discounts on the magazine cover price. You can currently Subscribe and get 6 issues for just £1 or download our digital edition direct to your desktop, phone or tablet.