MINI Cooper D deliveries delayed due to noise problems
Louder-than-expected diesel engine delays delivery of new MINI Cooper D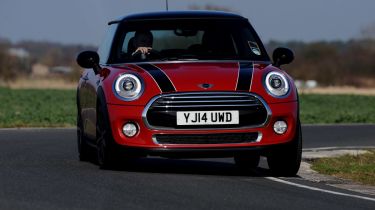 MINI has been forced to delay deliveries of the all-new MINI Cooper D after they found test cars had developed noise problems.
The Cooper D has a new 1.5 three-cylinder engine and its believed the diesel version is noisier than expected. And there's no fixed timeframe on when MINI will have it fixed with customers left waiting on their new cars.
A MINI spokesman confirmed engineers are investigating the problem and the company is keen to only deliver the new diesel model to owners when it is perfect quality rather than be forced to issue a recall at a later date.
One customer got in touch with Auto Express after he actually received his Cooper D before being told by the dealer to return it immediately.
He said: "It was delivered on Friday morning and Friday evening they said bring it back. MINI said it was an audio acoustic problem which doesn't seem right. They said they've suspended all orders."
The Cooper D is the most frugal car in the MINI range with claimed fuel returns of 80.7mpg and CO2 emissions of 92g/km. Despite having one cylinder less than the MkII, power is up from 110 to 114bhp with 270Nm of torque.
Prospective owners have shelled out £16,450 for the standard MINI which comes with Bluetooth, a DAB radio and air-conditioning although some will have stumped up more for the extensive list of extras.