MINI Cooper D 2014 review
Petrol models have impressed. Now we try diesel MINI Cooper D on British roads
The brilliant MINI Cooper D is better than ever. Not only is it more efficient and even faster than before, it has class-leading refinement and some big car equipment. Happily, however, this more mature and grown-up approach hasn't affected the MINI's entertaining handling or fun-loving character. The only real drawbacks are its cramped rear and the fact there's still not much luggage space – but then it is called MINI.
The all-new MINI Cooper D has started its homecoming tour. We've already sampled the upmarket hatch in far-flung Puerto Rico, but this is the first time the British born and bred newcomer has been driven on UK soil – and Auto Express was first in the queue for the keys.
The racy Cooper and Cooper S gave us an initial taste of the third-generation MINI, so now it's the turn of the frugal Cooper D. With claimed fuel returns of 80.7mpg and CO2 emissions of 92g/km, it promises to combine the car's characteristic driving thrills with penny-pinching running costs.
Like the rest of the MINI line-up, the Cooper D gets an all-new engine, with the MkII's 1.6-litre four-cylinder making way for a 1.5 three-cylinder. Despite having a smaller capacity and one less cylinder than before, power output rises from 110 to 114bhp, while torque remains unchanged at 270Nm.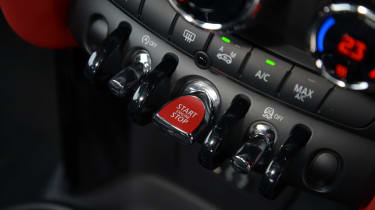 Press the glowing red starter switch, and the Cooper D clatters into life. It's noisy from the outside, but excellent sound deadening means the cabin is well isolated. This refinement continues on the move. It's only at high revs that you'll notice a trademark three-cylinder thrum from the engine. The characterful soundtrack adds to the MINI's fun-loving nature, although it's slightly at odds with its upmarket aspirations.
Still, there won't be any complaints about the performance. It feels a little flat from idle, but once the revs rise above 1,500rpm the Cooper D pulls strongly, and the benchmark 0-62mph sprint is dispatched in just 9.2 seconds.
Yet it's the MINI's mid-range muscle that's really impressive, serving up decent overtaking pace and carrying the car effortlessly up steep inclines.
MINI has worked hard to give its all-new baby a more grown-up feel, which means there's very little wind and road noise, while the ride is a little softer than before – although it's still stiff at low speed and there's some fidgeting on the motorway. Even so, the MINI's appetite for entertainment through corners remains intact.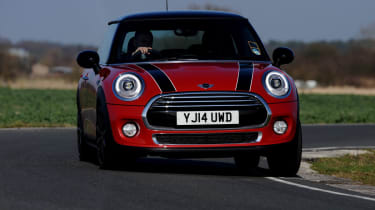 The steering is quick, well weighted and full of feel, and there's more grip than ever. Yet it's still possible to subtly adjust the MINI's line through a corner by using a combination of steering and throttle – few cars at any price are as agile and engaging. Selecting Sport mode adds weight to the steering and sharpens the throttle response, but the precise six-speed gearbox and progressive brakes remain unchanged.
Elsewhere, you'll find an evolutionary approach, meaning that only dedicated fans are likely to spot the longer and wider body, plus the bigger and bolder lights front and rear.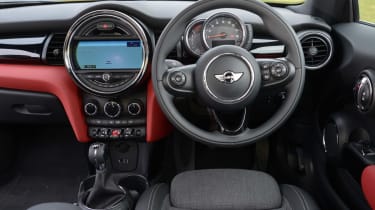 Inside, you'll find a revised dash layout that's packed with retro touches and dominated by the large circular sat-nav screen. Fit and finish is firstrate as usual, and most of the materials have a high-quality look and feel.
Despite its larger exterior dimensions, the MINI remains cramped inside. The driver and front passenger get plenty of space, but the rear bench is really only for children. And while boot capacity has grown, it's still a mere 211 litres.
At £16,450, the Cooper D isn't cheap, but you do get Bluetooth, a DAB radio and air-conditioning. And if you're feeling flush, there's a long list of extras and personalisation options to choose from.