MINI Cooper 2014 review
Verdict on more grown-up new three-cylinder turbo MINI Cooper on UK roads
The new MINI Cooper is the sweet spot of the latest MINI range. It's cheaper, yet more fun than the Cooper S hot hatch. Plus it's a higher-quality, more resolved everyday runabout than the old Cooper. Unlike the new Cooper S, this MINI has retained its fun factor. Just be wary of getting carried away with the options list for this highly customisable icon.
The new MINI Cooper is one of the few everyday cars to lay claim to genuine supercar pedigree. Its new engine, a 1.5-litre turbocharged three-cylinder, is virtually identical to the powerplant you'll find in the back of BMW's showcase, the i8 supercar.
The Cooper's power and torque outputs of 135bhp and 220Nm aren't particularly exotic, but they are 16bhp and 60Nm up on the old 1.6 Cooper's. Throw in a 10.5mpg gain (to a claimed 61.4mpg) and a 32g/km cut in emissions (now 107g/km), and it's clear that although the Cooper's engine is smaller, it definitely punches above its weight.
Maximum torque from just 1,250rpm makes the new car amusingly rapid from getaway. It sprints from 0-62mph in 7.9 seconds – a noticeable 1.2 seconds faster than a MkII Cooper.
It also sounds more interesting than the blary new Cooper S hot hatch, with a bass-heavy three-cylinder thrum that's fun on full throttle, but muted at idle, or a fast cruise. In fact, the entire car is more refined than before; the lack of noise alone is uncanny.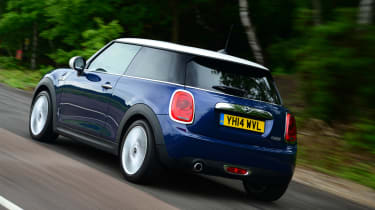 This new, mature image is helped by a much-needed cabin update. It's more ergonomically rational, with door-mounted electric window switches and comprehensive dials behind the steering wheel, plus it benefits from smarter trim than the plasticky previous model.
With a lighter engine up front, the Cooper has a keener appetite for bends than the four-cylinder Cooper S, and an entertainingly nimble set-up, despite the latest MINI's generous footprint.
A low-set, BMW-like driving position accentuates the driver-focused feel. It's a hoot, yet seems more planted than the sometimes fidgety outgoing model, mostly due to the generous track widths.
The manual box is worth a special mention, too. The new gearlever is less oversized and more tactile than the old item, plus the shift action itself is terrific. Switch from fuel-saving Green or Normal mode into Sport – via a curious rotating ring control which encircles the gearlever – and the engine blips when downchanging, making even the most ham-fisted driver feel (and sound) like a heel-and-toe hero.
Underlining the new Cooper's more sophisticated personality is the option of adaptive dampers – a first for this class. The £375 Variable Damper Control system is worth adding if you intend to spec larger alloy wheels like those on our car. The 17-inch rims work wonders with the new Mini's chunky looks, but they do tend to crash over potholes. Selecting the comfort-orientated ride setting can take the edge off, but it's still far from supple. It's worth sampling the more stylish wheels before buying, especially if your Cooper will spend its time on scarred city streets.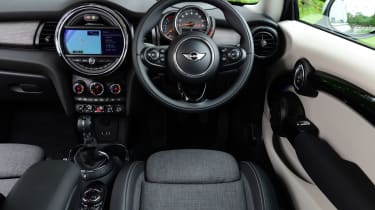 The extra-cost suspension was the tip of an options iceberg for our test car, which boasted goodies including the Chili and Media packs, LED front lights, a head-up display, glass sunroof and heated seats. In total, the toys pushed our Cooper's price from a reasonable £15,300 (just £400 up on the old model) to an eye-watering £24,830.
We suspect that a lighter hand with the options list would result in a Mini that's just as satisfying to drive, and more economical. Added options are, after all, notoriously difficult to recoup value from when it comes to reselling.